Grunnfjell avslører oksygengåte
Jordas atmosfære ble ikke rik på oksygen ved en enkelt hendelse, snarere gjennom en serie episoder over flere hundre millioner år. Det mener forskere som har gransket borekjerner fra grunnfjellet i nordvest-Russland.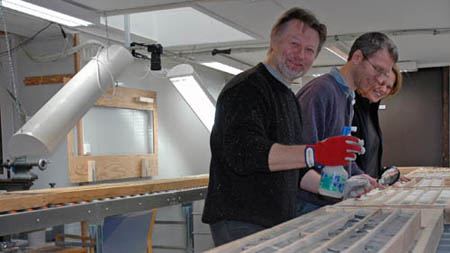 KJERNER: Borekjernene er gransket ved NGUs laboratorium, her av Victor Melezhik, Aivo Lepland og Melanie Mesli. Foto: Gudmund LøvøDe nye funnene er gjort av en internasjonal forskningsgruppe og publisert i det vitenskapelige tidsskriftet Science med NGU-forskerne Victor Melezhik, Aivo Lepland og Alenka Crne som medforfattere. Arbeidet har skjedd i regi av det bredt internasjonalt anlagte prosjektet Fennoscandian Arctic Russia - Drilling Early Earth Project (FAR DEEP).
Feltarbeidet ble gjennomført i løpet av fem måneder på Kolahalvøya og i Karelen i 2007. Her ble det boret en serie med grunnfjellkjerner, som favnet en ufattelig lang tidsperiode fra 2440 millioner til 2000 millioner år.
- Ved NGUs laboratorium har vi undersøkt og beskrevet 3,6 kilometer med kjerneprøver. Alle opplysningene om borekjernene er lagt inn i en omfattende database på nett. Forskere fra 15 land har så langt gjennomført ulike detaljstudier av materialet. Prøvene er tilgjengelige og svært interessante for forståelsen av denne hendelsesrike tida fra Jordas urtid, påpeker NGU-forskerne Melezhik og Lepland.
En lang historie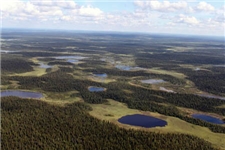 LANDSKAPET: Panorama fra Russlands Imadra-Varzuga grønnsteinsbelte, hvor en del av boringen i FAR DEEP-prosjektet fant sted. Foto: Victor MelezhikEtt av resultatene er nå presentert i utgaven av Science 1. desember: - Vi har tidligere trodd at oksygen dukket opp i atmosfæren ganske raskt gjennom én bestemt hendelse, sier førsteforfatter av publikasjonen i Science, forsker Lee Kump ved Penn State University i en pressemelding.
- Men nå leter vi ikke lenger etter én begivenhet. Vi ser på når og hvorfor oksygen ble en stabil del av vår atmosfære. Tidspunktet avhenger av hvilken terskel vi forholder oss til. Den gradvise utbredelsen av oksygen i atmosfæren fant sted over flere hundre millioner år, fastslår NGU-forskerne.
Resultater av studier av karbonisotoper fra FAR DEEP-kjerner ble sammenlignet med like gamle prøver fra Gabon for å undersøke om opphopningen av oksygen skjedde samtidig i andre deler av verden. Prøvematerialet både fra nordvest-Russland og Gabon viste en sammenlignbar endring i karbonisotopene gjennom tid. Forandringene i atmosfæren skjedde gradvis, og de foregikk jorden rundt.
I organisk materiale
For 2500 millioner år siden nådde oksygenmengden omsider et nivå hvor mineralet pyritt kunne ha blitt oksidert. Et par hundre millioner år senere var røde, oksiderte jernrike sedimentære bergarter avsatt verden over under en gradvis økende mengde med fritt oksygen. De sparsomme mengdene med oksygen var produsert i fotosyntese med encellede organismer.
For 2000 millioner år siden hadde oksygenet i atmosfæren nådd opp til en prosent av dagens nivå, noe som var tilstrekkelig til at oksygen trengte inn i grunnvannet og oksiderte begravd organisk materiale.
Slik har forskerne kastet lys over hele karbonsyklusen i Jordas urtid, omkring det evige naturlige kretsløpet der vann, luft og jord arbeider sammen.
Tid og mekanisme
- Innblikket i Jordas karbonsyklus gir oss spennende ledetråder i historien om mengden oksygen i atmosfæren. Lee Kump og hans kolleger har levert hittil ukjente detaljer om tid og mekanismer rundt denne hendelsen, sier programdirektør Enriqueta Barrera i det amerikanske National Science Foundation's Division of Earth Sciences.
Med seg på laget har Kump forskerne Michael Arthur i Penn State University, Christopher Junium ved Syracuse University, Alex Brasier and Anthony Fallick ved Scottish Universities Environmental Research Centre, Victor Melezhik, Aivo Lepland og Alenka Crne ved NGU, samt Genming Luo fra China University of Geosciences.
Den norske delen av forskningen har blitt støttet av Norges forskningsråd.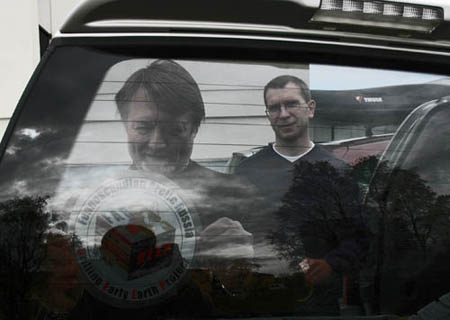 FØR FELT: Forskerne Victor Melezhik og Aivo Lepland klargjør bilen før det fem måneder lange feltoppholdet i nordvest-Russland i 2007. Foto: Gudmund Løvø
Referanse:
Kump, L. R., Junium, C., Arthur, M. A., Brasier, A., Fallick, A., Melezhik, V., Lepland, A., Crne, A. E., Luo, G. Isotopic Evidence for Massive Oxidation of Organic Matter Following the Great Oxidation Event. Science. 1. desember 2011.