Betong-bok: Gråere blir det ikke...
Moderne samfunn bygger på betong. I 2011 brukte verden nærmere 20 milliarder tonn betong i konstruksjoner. En ny bok guider leserne inn de mineralske egenskapene til menneskeskapt gråberg.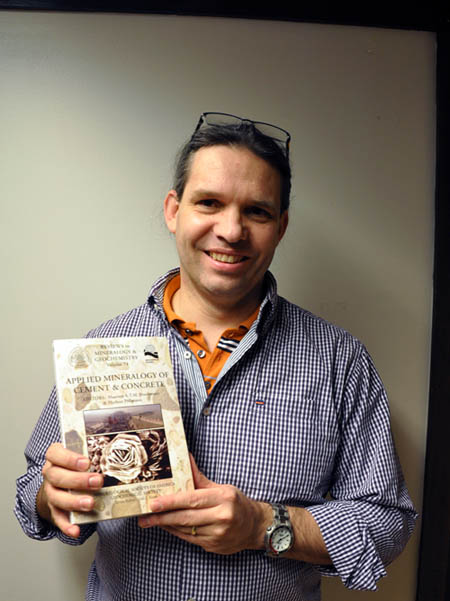 KUNNSKAP: Betong er det aller viktigste byggemateriale i et moderne samfunn. Det er svært viktig å forstå betongens egenskaper, sier forsker Maarten Broekmans ved NGU.
- Betong er sammenstilt av løskornet tilslag bundet sammen av Portlandsement, eventuelt med mineralske tilsetninger. Verdens årlige betongproduksjon på 20 milliarder tonn tilsvarer en 20 cm tykk betongkjerne som strekker seg fram og tilbake til månen – 365 ganger, sier forsker Maarten Broekmans ved Norges geologiske undersøkelse (NGU).
Han har nå utgitt boka Applied Mineralogy of Cement & Concrete, i samarbeid med Herbert Pöllmann ved Martin Luther Universität i midtyske Halle.
Betong er en menneskelaget bergart og et svært mangesidig byggemateriale; den gir arkitekter total formfrihet. - Dermed er betong det aller viktigste byggemateriale i det moderne samfunnet, og det er svært viktig å forstå betongens egenskaper for å kunne utnytte tilgjengelige råstoffer og ressurser på best mulig måte, fastslår Broekmans.
Grått for store, grått for små
De viktigste og største betongkonstruksjonene i verden, blant annet Three Gorges Dam i Kina, Itaipu Dam i Brasil og Paraguay, Deltaprosjekt i Nederland eller Bjørvikatunellen i Oslo, er designet for å vare i nærmere 200 år.
- Konstruksjonene skal både være driftssikre og trygge hele sin levetid, og helst ennå lengre. Men, akkurat som naturlige bergarter forvitrer også betong, slik at konstruksjoner etter en tid må skiftes ut med nye som tilfredsstiller samtidens krav. Artiklene i den nye boka samler tilgjengelig mineralogisk kunnskap om "herding" av sement på mikroskala, alternative materialer til sementproduksjon med lavere CO2-utslipp og betongskader ved alkali-silika reaksjon, som også er nokså utbredt i Norge, forteller Broekmans.
De syv kapitlene har til sammen over 2100 litteraturhenvisninger.
Mineralogi for samfunnet
Betongforskning er tradisjonelt et ingeniørteknisk fagfelt med hovedfokus på styrkeegenskaper, design, vedlikehold og forvaltning av konstruksjoner. Samtidig er de viktigste prosesser som opptrer i produksjon av sement og betong, samt konstruksjonsforfall og skadeutvikling, egentlig velkjent fra mineralogien.
Boken Applied Mineralogy of Cement & Concrete ønsker å appellere både til ingeniører og mineraloger. Forfatterne håper på å øke den gjensidige interessen i grensefeltet mellom de to anerkjente vitenskapsgrenene.
- Den nye boka er utgitt av Mineralogical Society of America (MSA) i serien "Reviews in Mineralogy and Geochemistry", som har løpt fra 1974. Som student brukte jeg denne serien flittig, den definerte en standard i mineralogi og geokjemi. Nå, mange år senere, er det derfor spesielt morsomt for meg å ha min egen utgave, fastslår en tilfreds Maarten Broekmans.
Nylig takket han også ja til en oppgave som Associate Editor til MSAs viktigste tidsskrift "American Mineralogist", med særansvar for betongmineralogi.