NGU på geologisk verdenskongress
I disse dager går den 32. verdenskongressen i geologi av stabelen i Firenze, Italia. For de nordiske deltakerne er dette siste mulighet til å markere seg som arrangør av den neste kongressen. Avgjørelsen faller den 25. august.
De nordiske landene har felles utstilling, og profilerer seg på denne måten i Firenze. Klikk på bildene over og under for store versjoner.
The 32nd International Geological Congress - i dagligtale omtalt som verdenskongressen i geologi - er mer enn faglig viktig for deltakerne fra NGU. Sammen med søsterorganisasjonene i de fire andre nordiske landene, har Norge søkt om å være arrangør av den neste verdenskongressen. Den finner sted i 2008.
Nordic countries - Lands of Ice and Fire
På verdenskongressen i Italia skal det være avstemning om hvem som skal være neste arrangør. For NGU er det å håpe at et flertall velger å levere stemmeseddel med påskriften "Nordic Countries - Lands of Ice and Fire".
Flere tusen geologer fra hele verden er i perioden 20.-28. august samlet i Firenze. Det enorme arrangementet byr på foredrag holdt av verdens fremste fagfolk, utstillinger fra alle verdenshjørner og ikke minst en lang rekke ekskursjoner med mange spennende reisemål.
NGU presenterer forskning
Også flere av NGUs forskere er på plass i Italia for å formidle det siste innen geologisk forskning fra Norge. Den norske skredforskningen er inne i en spennende periode, med utprøving av nye metoder både på kartlegging og overvåking av rasfarlige områder. Skredforsker Lars Harald Blikra skal fortelle om dette.
NGU-forsker Suzanne McEnroe skal holde foredrag om sin forskning på nanoteknologi. Dette er forskning som blant annet kan resultere i at IT-industrien makter å lagre enda større datamengder enn i dag.
Norske geologer har i samarbeid med britiske arkeologer avdekket ny og verdifull kunnskap om et flere tusen år gammelt steinbrudd i Egypt. Steinbruddet er et av verdens eldste, og har inntil denne oppdagelsen vært uregistrert som kulturminne. NGUs forsker Tom Heldal skal fortelle om disse oppdagelsene.
Viktig dag i vente
Onsdag 25. august blir en merkedag for de nordiske deltakerne på verdenskongressen. Da faller avgjørelsen om neste arrangørsted. Du kan selvfølgelig holde deg oppdatert om dette her på www.ngu.no.
Les mer:
Bidding document prepared by the Nordic countries (6,4Mb)
The 32. IGC Firenze, Italia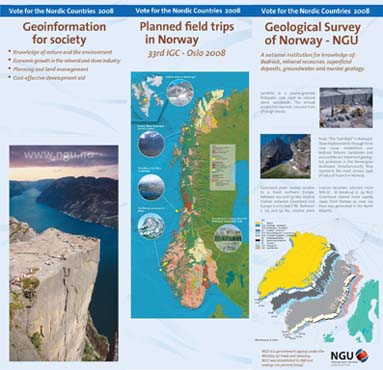 Den norske delen av standen har denne posteren som blikkfang. Den er satt opp sammen med en nylaget video som går kontinuerlig. Klikk på bildet for stor versjon.