Pollfjellet krevde 14 liv for 200 år siden
LYNGEN: Sommeren 1810 krevde Pollfjellet i Lyngen 14 liv. Et nesten to kilometer bredt belte med steinmasser løsnet flere hundre meter oppe i fjellsida og raste i sjøen.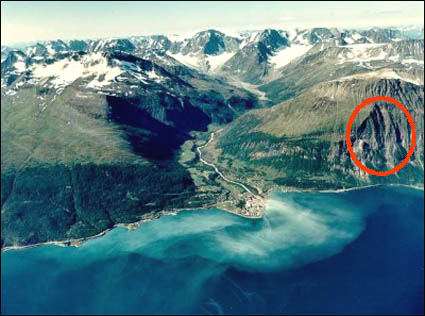 SKREDSÅR: Innringet ser vi såret etter fjellskredet i 1810. Furuflaten er grenda i midten på bildet der Lyngsdalen munner ut i fjorden. (Fotofaksimile: Lyngen kommunes hjemmeside/Fjellanger Widerøe)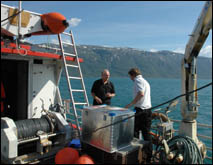 I ARBEID: Forsker Oddvar Longva (t.v.) og ingeniør John Anders Dahl ved NGU saumfarer fjorden på jakt etter gamle skredmasser.
De tre flodbølgene som oppsto etter skredet tok med seg flere garder, 14 mennesker, en rekke båter og mange husdyr på Furuflaten ved utløpet av Lyngsdalen. Pollfjellet ligger bare noen få kilometer sørover fra det ustabile Nordnesfjellet på motsatt side av fjorden.
Gamle skred
Nå tråler forskningsfartøyet Seimsa store deler av fjorden på leting etter gamle skredmasser på fjordbunnen.
- Kartlegging av gamle skred kan si noe om hvor ofte det har gått skred
TILFREDS: Lagleder Terje H. Bargel er fornøyd med at myndighetene nå tar faren for store fjellskred på alvor.
i et fjordområde, og dermed også om sannsynligheten for nye skred, opplyser forsker Oddvar Longva ved Norges geologiske undersøkelse (NGU).
Så langt viser undersøkelsene i Lyngen at det har gått svært få store fjellskred ned i fjorden etter siste istid. Likevel er det kartlagt flere skred og steinsprang på land. Slike skred har tatt folk og hus både på Rapet i Nordkjosbotn, i Røyrvika i Kvæfjord og på Steinfjord i Berg.
Trigget av jordskjelv
- Samtidig ser vi at det har gått
PÅ SEISMA: Forsker Raymond Eilertsen diskuterer kartleggingen av fjordbunnen med ingeniør John Anders Dahl om bord på Seisma.
mange skred i og rundt Lyngen for mer enn 9000 år siden. Ismassene som smeltet og trakk seg tilbake mot slutten av siste istid, skapte så mye stress og spenninger i fjellet at det trolig har trigget jordskjelv i området. Vi tror at disse jordskjelvene har utløst de gamle skredene, opplyser Longva.
Men hva var det egentlig som skjedde i den siste store hendelsen, for bare 200 år siden? I boka Skredulykker i Norge forteller forfatteren Astor Furseth historien:
- Hadde jegere eller gjetere lagt merke til en sprekk oppe i det 1213 meter høye Pollfjellet på nordsida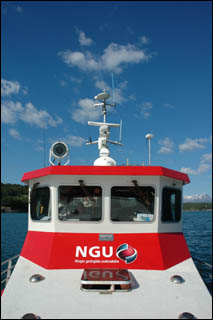 34 BRUTTOTONN: Her er båten NGU bruker til kartlegging av havbunnen. FF Seisma er fortsatt et moderne forskningsfartøy, selv om det er 22 år siden den ble bygget.
av grenda? Det er sannsynlig, også at de hadde erfart en økt frekvens av små steinskred i de bratte skråningene ned mot fjorden. Det er grunn til å tro at fjellet var urolig denne våren i 1810. Men vi vet ikke om folk tolket disse tegnene, skriver Furseth.
Tre flodbølger
Da steinmassene styrtet i fjorden den 30. juni oppsto det tre flodbølger. Mange hus, husdyr, båter og mye dyrket jord gikk med i bølgene. 10 voksne og fire barn mistet livet. Bare to av de omkomne ble senere funnet.
Tsunamiene ga skader langt fra skredstedet. De forplantet seg hele 20 kilometer utover til Kvitberg og like langt innover til botnen av Storfjorden der bølgene fortsatt var mellom halvannen og to meter høye.
Astor Furseth viser til at fjellskredet har hatt en uvanlig dimensjon og antyder at det trolig var et av de største fjellskredene i Norge etter istida.
Mange overlevde likevel skredet, trolig ved å løpe unna vannmassene. Det fortelles også at det ble sett en liten komse flytende ute på fjorden etter skredet. Her lå den sprell levende og tre uker gamle Joseph og smilte da han ble funnet. Foreldrene Elen og Jakob skal ha vært to av de omkomne.