Sporer olje med bergartens fingeravtrykk
To beskjedne grunnstoff kan avsløre kildebergartens unike fingeravtrykk og dermed bidra til å styrke olje- og gassletingen i nord. Et nytt norsk-amerikansk forskningsprosjekt skal spore hydrokarboner fra kildebergarter til reservoar.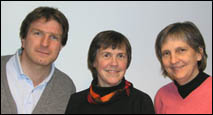 TREKLØVER: Bernard Bingen, Judith Hannah og Holly Stein skal arbeide med det nye Petromaks-prosjektet for oljeindustrien.
I teorien er det enkelt: - Hvis du vet nøyaktig når og hvor kildebergartene ble dannet, kan du lettere spore opp oljen som stammer fra disse skiferbergartene, sier prosjektleder og forsker Bernard Bingen ved Norges geologiske undersøkelse (NGU).
Olje- og gassressurser
Analyser av rhenium (Re) og osmium (Os) skal fremkalle kildebergarters fingeravtrykk. De to grunnstoffene er konsentrert i organisk materiale i marine skiferbergarter, altså i bergarter som er kilde for olje og gass.
- Vi skal først stille den geologiske klokken. Isotoper fra rhenium og osmium gjør at vi kan forta en nøyaktig datering av dannelsen av kildebergarter for olje- og gass. Samtidig kan vi avdekke når, og fra hvor, hydrokarboner beveget seg inn i reservoarene, forteller Bernard Bingen.
- Et oljefunn som så matcher kildebergartens unike fingeravtrykk, vil dermed blottlegge en petroleumshistorie under havbunnen, som industrien kan nyte godt av i letingen etter nye olje- og gassforekomster.
Petromaks-støtte
Forskningsarbeidet, som ledes fra NGU, skal gjennomføres i løpet av fem år og er støttet med hele 8,5 millioner kroner fra Norges forskningsråds store program for maksimal utnyttelse av petroleumsreservene (Petromaks).
Til å gjennomføre det ambisiøse prosjektet har Bernard Bingen med seg seniorforskerne Holly Stein og Judith Hannah, som begge er tilknyttet både NGU og det amerikanske Colorado State University i Denver. I tillegg blir to post-doktorer tilknyttet prosjektet.
- Stein og Hannah har, gjennom sitt eget Airie-program i USA, utviklet analysemetoder for nettopp rhenium og osmium. Dette er blitt et kraftig verktøy for å avsløre kronologien i bergarter og dermed spore petroleumshistorien, sier Bingen.
Feltarbeid i nord
Forskerne starter sine undersøkelser i områder med størst og umiddelbar interesse for norsk olje- og gassindustri; på kontinentalsokkelen fra Midt-Norge og nordover til Barentshavet.
- Vi skal bestemme osmium-isotoper og alderen på mulige kildebergarter fra tre steder på Øst-Grønland og Svalbard. Det samme skal vi gjøre med grunne borekjerner fra Barentshavet og kontinentalsokkelen utenfor Nordland og Midt-Norge. Deretter skal vi se på oljeprøver knyttet til de potensielle kildene, forklarer Bernard Bingen.
Senere skal den nye basiskunnskapen testes ut i større målestokk.
Stort samarbeid
Hele prosjektet skjer i samarbeid med oljeselskapene Statoil ASA og Eni-Norge AS, forskningsstiftelsen Sintef i Trondheim pluss Airie-programmet ved Colorado State University i USA.
Samlet har prosjektet en økonomisk ramme på 13, 8 millioner kroner.
Her er alle de 17 nye Petromaks-prosjektene som fikk støtte før jul