Kadmiumforurensning i boligområder
Overflatejorda i to boligområder i Odda er til dels sterkt forurenset av tungmetaller. Boligene ligger i samme område som Boliden Odda AS' sink- og aluminiumfluoridfabrikk på Eitrheimsneset.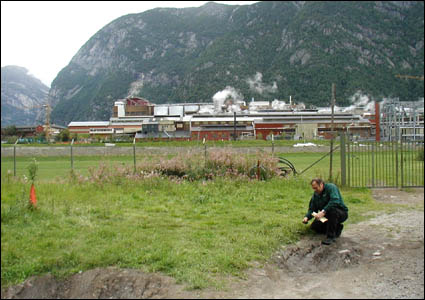 PRØVER: NGUs Tore Volden tar overflateprøver av jord i Odda. Jord i to boligfelt i industrikommunen er sterkt preget av tungmetaller. Foto: NGU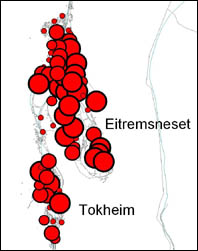 UTBREDT: Kadmium er et helse-skadelig metall. Trykk på bildet for en forklaring på symbolene og for å se hvordan kadmium-forurensingen er utbredt i Odda.
Prøver av overflatejord viser at det er opp til ti ganger så mye kadmium i det øverste jordlaget i boligområdene Tokheim og Eitrheim som anbefalte grenseverdier utarbeidet av Nasjonalt folkehelseinstitutt.
- Det er en uheldig situasjon, mener forskerne.
Tiltaksplan
I dette området ligger det både barnehage, boliger og kjøkkenhager.
- Det er spesielt viktig at lekemiljøet til små barn er fritt for forurensninger, og vi anbefaler i første omgang at det blir gjennomført en miljøteknisk grunnundersøkelse av barnehagejorda, sier forsker Morten Jartun ved Norges geologiske undersøkelse (NGU).
- I tillegg kan det være aktuelt med boring og prøvetaking av masser på større dyp for å undersøke hvor dypt forurensningen ligger. Industribedriften i nærområdet har vært i drift siden 1924, og det er grunn til å tro at forurensningen stikker dypere enn de to øverste centimeterne som vi har undersøkt. Samtidig er det overflatejorda vi først og fremst eksponeres for, påpeker Jartun.
Han antyder at tiltak mot forurensningen for eksempel kan være å dekke til eller fjerne forurenset jord.
- I tillegg anbefaler vi at det blir satt fokus på håndtering av grave- og anleggsmasser fra forurensede områder. Slik unngår man at forurenset masse spres til andre områder, sier forskeren.
Kan skade nyrene
Kadmium er et helseskadelig metall som samles opp i kroppen. Metallet skilles nesten ikke ut, det oppkonsentreres gjennom hele livet og kan i verste fall skade nyrene, skriver Nasjonalt folkehelseinstitutt i sine generelle helsevurderinger av tungmetallforurensning.
Det er miljøgeokjemilaget ved NGU som har undersøkt overflatejorda i Odda kommune i Hordaland, et tettsted med lange og stolte industritradisjoner i enden av Sørfjorden innerst i Hardangerfjorden. Det rike industrieventyret var i ferd med å ende i et miljømareritt på 1980-tallet. Omfattende utslipp og stor forurensing førte til en nesten død fjord og kostholdsrestriksjoner på sjømat.
Industrien har de siste årene gjennomført strenge rensetiltak, og fjorden er på veg tilbake til det normale, blant annet etter en tildekking av den svært forurensede Eitrheimsvågen utenfor fabrikken til Boliden Odda AS.
257 prøver av jord
100 år med tung industri setter imidlertid sine spor i naturen, noe som kan påvises i jorda. I september i 2003 ble det derfor tatt i alt 257 prøver fra bolig- og industriområder i kommunen.
Vinteren 2004 ble det gjort kjent at overflatejorda ved nedlagte Odda smelteverk er sterkt forurenset av flere tungmetaller. Her er det allerede bevilget penger til opprydning.
Nå foreligger den endelige rapporten fra boligfeltene: Tokheim og Eitrheim peker seg ut, like i nærheten av sink- og aluminiumfluoridfabrikken Boliden Odda AS. I disse områdene er det blant annet påvist en konsentrasjon av kadmium på 109 mg/kg. Nasjonalt folkehelseinstitutt anbefaler at man fjerner alle masser med en kadmiumkonsentrasjon på over 10 mg/kg.
Ved og rundt den tredje store industribedriften i Odda, Tinfos Titan og Jern i Tyssedal, har NGUs undersøkelser ikke påvist alvorlig forurensning av overflatejorda.