Nytt verktøy gir ny offshore-kunnskap
Detaljerte laboratoriestudier av prøver fra forkastningssoner på fastlandet i Trøndelag og Nordland skal lære forskerne mer om vår offshorehistorie. Temperaturhistorien i bergartene kan gi nye svar.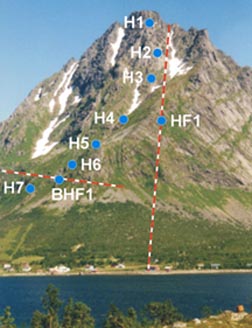 GIR SVAR: Higravtinden på Austvågøya. Med sine 1146 m.o.h. er dette det høyeste punktet I Lofoten. De rød og hvit-stiplede linjene indikerer to sprø forkastninger i henholdsvis nord-sør og øst-vest retning. Bildet er tatt mot øst. Apatittfisjon-spor forteller om erosjon fra midt-jura til tidlig kritt tid. Foto: Bart Hendriks
Forskerne setter stadig på plass nye biter i landets geologiske puslespill.
Nå styrkes kunnskapen om landheving, erosjon og forkastninger i de midtre delene av Norge de siste 500 millioner år.
De nye dataene har interesse også for oljeindustrien.
Erosjon
I løpet av det siste året er et nytt laboratorium blitt etablert ved Norges geologiske undersøkelse (NGU). Den nye laben gjør forskerne i stand til å spore spaltingen av uran i mineralet apatitt.
Slik får de kjennskap til alder og temperatur-utvikling - en temperaturhistorie - i ulike bergarter.
Geologisk utvikling
- Dette gir oss ny kunnskap om den geologiske utviklingen, både på det norske fastlandet og på kontinentalsokkelen. Det blir et slags verktøy i forholdet mellom land og sjø, forklarer forsker Bart Hendriks ved NGU.
NGU har finansiert laboratoriet, som nå brukes til et stort prosjekt støttet av oljeselskapene Shell, BP og Statoil.
- Data som blir produsert i laben kan for eksempel bidra til å forklare hvor mye materiale som er blitt erodert fra ulike deler av fastlandet og ut på sokkelen. Det har betydning for utviklingen av olje og gassressursene. I tillegg gir dataene oss nye opplysninger om lokalisering og bevegelse på forkastningene som har vært aktive fra cirka 500 millioner år siden og fram til i dag, sier Hendriks.
Bergarter på land
Metoden er langt fra ny, men har fått en renessanse de siste årene. Aldersdatering ved hjelp av såkalte fisjonsspor i apatitt (AFT-metoden), har lenge vært brukt for å studere utviklingen av den atlantiske kontinentalgrensen og av selve kontinentet. Oljeselskap har brukt metoden i leting etter olje og gass i Nordsjøen. Problemet er at det er svært vanskelig å tolke data fra sedimentære bergarter på havbunnen.
- Vi undersøker bergarter på land. Det er enklere og gir oss gode data. Arbeidet pågår blant annet på Saltfjellet og sør i forkastningskomplekset i Møre og Trøndelag, opplyser Hendriks.
Sammen med kollega Tim Redfield har han allerede gjort en re-tolking av fisjonsspordata fra Øst-Sverige og Finland, som blant annet viser at enkelte tidligere tolkninger av dateringer derifra er feil. Arbeidet kan føre til mer nøyaktige anslag for landhevning i området og bidra til forbedringer av AFT-metoden.
Full kontroll selv
Hittil er alle publiserte fisjonsspordata fra fastlands- eller offshore-Norge produsert ved laboratorier i utlandet, først og fremst i Nederland. Med den nye norske fisjonssporlaben kan NGUs forskere selv kontrollere både prosedyrer, analyser og tolkning av data.
- Nå kan vi gjøre det akkurat slik vi selv vil, uavhengig av andre og mye billigere, sier Bart Hendriks.
Laben er satt opp med mikroskop, digitalt kamera og et datastyrt objektbord med motorer, som gjør det mulig å posisjonere de ørsmå prøvene med meget stor nøyaktighet.
I samarbeid med Vrije-universitetet i Amsterdam, har Hendriks og Redfield tidligere brukt AFT-metoden til å identifisere vertikalbevegelsen over forkastninger i Møre og Trøndelag. I tillegg bruker de nå metoden til å se hvordan bergartene ble kjølt ned i de nordlige delene av den skandinaviske fjellkjeden.
Les mer:
BWH Hendriks, (2005), Analytical Methods: Fission Track Analysis, Elsevier's Encyclopedia of Geology, R.C. Selley, L.R.M. Cocks, I.R. Plimer (eds), Elsevier, Oxford, pages 43 - 53.
Kontaktpersoner ved NGU:
Forsker Bart Hendriks, tlf.: 73 90 44 40,
e-post: bart.hendriks@ngu.no
Forsker Tim Redfield, tlf.: 73 90 43 49,
e-post: tim.redfield@ngu.no