Raviner og ras i dypet
Store ravinedaler på kontinentalskråningen utenfor Lofoten og Troms kartlegges i disse dager. Undersjøiske ras har spilt en viktig rolle for dannelsen av ravinedalene, som fremstår som store canyoner på havbunnen.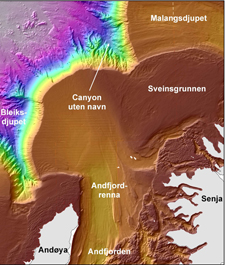 Kartleggingen er gjort av forskere fra Havforskningsinstituttet og Norges geologiske undersøkelse på MAREANO-prosjektets andre tokt for året med forskningsfartøyet G.O.Sars. Isens herjinger for flere tusen år siden har sammen med store ras formet havbunnen utenfor Norge. Men noen av sedimentene som stikker ut i rasskråningene er trolig lang eldre og kanskje flere millioner år gamle.
Forskerne også gjort mange andre observasjoner. Store undersjøiske morenelandskap, et rikt dyreliv, men også menneskelige spor i form av søppel på havbunnen.
Ras og gamle sedimenter
Sokkelkanten nord for Andøya er gjennomskåret av Bleiksdjupet, som er en stor canyon. Litt lenger nordøst, utenfor Sveinsgrunnen, finner vi en noe mindre markert canyon skåret inn i sokkelkanten. Denne har så langt ikke fått noe offisielt navn, og er tidligere lite undersøkt.
Disse markerte undersjøiske dalene er delvis dannet ved rasaktivitet, der store stykker av sokkelkanten har løsnet og sklidd ut mot dyphavet. Tilbake står et ravinelandskap med markerte rygger og forsenkninger. Disse kan ha en høydeforskjell på flere hundre meter. Rasene kan ha skjedd etter siste istid, men noen kan også være mange hundre tusen år gamle, og ha gått mellom tidligere istider.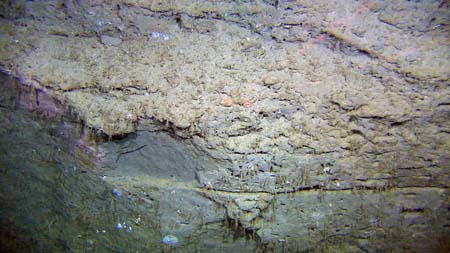 I en rasskråning på 800 meters dyp, nord for sokkelkanten ved utløpet av Andfjordrenna, fant vi disse finkornede sedimentene. Sedimentene er harde og sammenpressede fordi de har vært dekket av tykke lag med overliggende sedimenter, men også av isdekket under siste istid. På dette stedet er bakkanten av rasgropen en nesten vertikal vegg. Avstanden mellom de to røde laserprikkene er 10 cm.
Millioner år gammel havbunn
Videoopptak over en av canyonene utenfor utløpet av Andfjordrenna avslørte et fascinerende landskap. Her ser vi bratte skrenter i harde sedimenter. Skråningene er dekket av istidsavsetninger, men på grunn av rasaktiviteten er de blottlagt i de bratte skrentene. Sedimentene er sammenpressede og harde,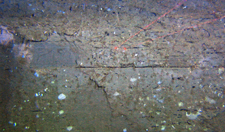 Eksempel på lagdelte finkornige sedimenter på rundt 900 m dyp. Dette kan muligens være sedimenter fra Tertiærtiden. Avstanden mellom de to røde laserprikkene er 10 cm.og ligner på fast fjell. Dette kan være sedimenter fra tertiærtiden, og i så fall er de mange millioner år gamle. Kun prøvetaking av sedimentene og analyser vil gi svar på hvor gamle de virkelig er. Lignende sedimenter er funnet i kontinentalskråningen utenfor Lofoten.
Blokker av utraste sedimenter ligger på hyller og langs foten av skråningene. Det bratte og kuperte landskapet er tydeligvis et paradis for skater. Det er observerte flere titalls skater som dormet på havbunnen, i tillegg til andre ettertraktede fiskearter.
Morenerygger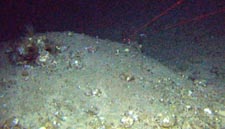 Litt lenger oppe på skråningen, på ca. 700 meters dyp, kom vi over et morenelandskap lignende det vi finner rett foran dagens isbreer. Dette tyder på at isen her har formet havbunnen på slutten av siste istid, for rundt 15 000 år siden. Hauger av morenemateriale ligger på havbunnen. Disse består av grov grus med stein og blokk. Mellom haugene er bunnsedimentene mer finkornede. Området framviste en rik biodiversitet med mange forskjellig arter.
Søppel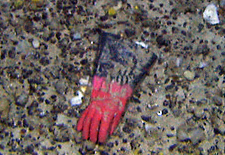 Denne hansken ligger på havbunnen på 700 meters dyp, 50 km fra land.Området for toktet er sterkt preget av menneskelig aktivitet. I tillegg til hyppige trålspor på havbunnen, er det funnet både fiskegarn, liner, wire, flasker og plastsøppel.