Sjekk permafrosten på nett
Norges første permafrostdatabase er ute på nett. Ved enkle tastetrykk kan alle som ønsker det undersøke permafrosten på Svalbard og i Norge. Opplysningene ble lagt ut samtidig som feltaktivitetene i Det internasjonale polaråret (IPY) ble avsluttet i vinter.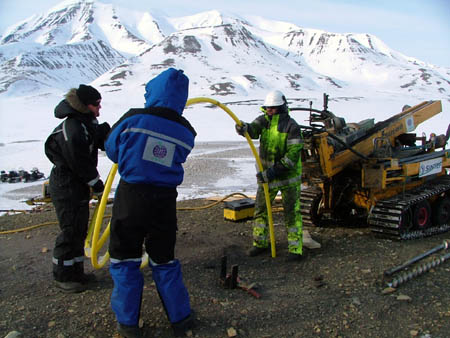 Resultater fra en rekke boringer i permafrosten på Svalbard og fastlands-Norge er nå tilgjengelig på nett.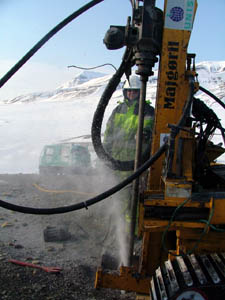 Permafrost sprøyter opp under boring i Adventdalen på Svalbard.- Dette er vi svært tilfredse med. Vi er antagelig blant de første polarårsprosjekteter som gjør sine data tilgjengelig for alle. Medarbeidere ved Norges geologiske undersøkelse (NGU) har bygget opp databasen og arbeidet mye med å få dette på plass, sier prosjektleder Hanne Christiansen ved Universitetssenteret på Svalbard (UNIS).
Måler permafrosten
- Geologistudenter ved UNIS har allerede brukt databasen til å laste ned data til oppgaver om permafrostens temperaturforhold her på Svalbard. Databasen letter tilgangen til permafrostdata, sier hun.
Hanne Christiansen leder polarårsprosjektet Permafrost Observatory Project: A Contribution to the Thermal State of Permafrost in Norway and Svalbard (TSP Norway), hvor forskerne måler og beregner utbredelsen av permafrost både på Svalbard og i deler av fastlands-Norge.
Temperatur og tykkelse
Målinger fra en rekke nye hull som er boret i både berggrunn og løsmasser, gir forskerne ny informasjon om temperatur og tykkelse på lagene med permafrost. Arbeidet er tett knyttet til dagens klimaendringer og til spørsmål om hva som kan skje dersom permafrost smelter. For eksempel er teorien at permafrost låser fjellpartier som i en skrustikke. Dersom isen smelter øker trykket i porer og sprekker, og store fjellpartier kan bli mer ustabile og i verste fall gli ut.
- Foreløpig er ikke samtlige data fra prosjektet lagt inn i databasen, men vi er kommet langt, spesielt med mange data fra Svalbard, fastslår Hanne Christiansen.
Databasearbeidet ved NGU er gjort av Geir Strand og Sverre Iversen.
Bredt samarbeid
Både Norges forskningsråd og Det internasjonale polaråret (IPY) har gjentatte ganger understreket at forskningsdata skal være tilgjengelig for alle interesserte, og ikke bare for forskerne. Dette kravet er til og med nedfelt i IPYs egen datapolitikk.

TSP NorwayProsjektet Thermal State of Permafrost in Norway and Svalbard (TSP Norway) er et bredt samarbeidsprosjekt mellom UNIS, Universitetet i Oslo, NGU, Norges teknisk-naturvitenskapelige universitet (NTNU) og Meteorologisk Institutt.

Polaråret
Det internasjonale polaråret åpnet 1.mars 2007. Feltaktivitetene ble avsluttet 1. mars 2009 og forskningsresultatene blir presentert på en sluttkonferanse i Oslo i juni 2010. I løpet av denne perioden er forskningsressurser og finansiering fra over 60 land koordinert i et ekstraordinært krafttak for å øke kunnskapene våre om både Arktis og Antarktis.