Flymålinger på Nordvestlandet
Geologiske forskere gransker hav og land fra Sunnfjord til Smøla på Nordvestlandet. Avanserte måleinstrumenter om bord i to Piper Navajo-fly avslører berggrunnen fra fastlandet og ut i havet.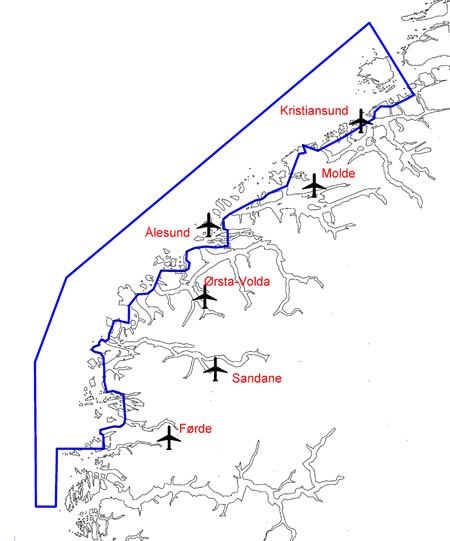 KART: Her er området som dekkes av de to flyene fra canadiske Novatem.- Generelt sett er nye, detaljerte og kvalitetsmessig sterke grunnlagsdata fra geofysisk kartlegging nødvendig for å påvise naturressurser, og for å utvikle olje-, gass- og mineralernæringen her i landet, sier leder Odleiv Olesen ved laget for sokkelgeofysikk ved Norges geologiske undersøkelse (NGU).
Land og sokkel
Det er NGU og Oljedirektoratet som leder arbeidet med å kartlegge det 13.000 kvadratkilometer store området i Sogn og Fjordane og Møre og Romsdal. Novatem fra Quebec i Canada er operatør for flygingen og har i høst brukt to fly i oppdraget, som omfatter til sammen 57.000 linjekilometer.
Prosjektet har økonomisk støtte fra ti oljeselskap: Bayerngas, ConocoPhillips, Det norske oljeselskap, Lundin Petroleum, Maersk, Noreco, RWE-Dea, Statoil, Total og Wintershall i tillegg til energiselskapet BKK.
Særegent flymønster
Flymålingene er en del av NGUs geologiske kartlegging av kystområdene i overgangen mellom land og sokkel. Målingene startet i oktober med Vigra lufthavn utenfor Ålesund som base. Arbeidet vil pågå også i 2012 og er en fortsettelse av målingene som ble påbegynt i fjor, der kystområdet fra Mandal til Sunnfjord ble kartlagt.
Flyene samler inn data om jordmagnetiske felt og radioaktiv stråling, og har målesensorer montert inne i flyet og på vingespissene. Flyene krysser fram og tilbake i nord-sør retning i en høyde av kun 60 – 100 meter. Avstanden mellom måleprofilene er 250 meter.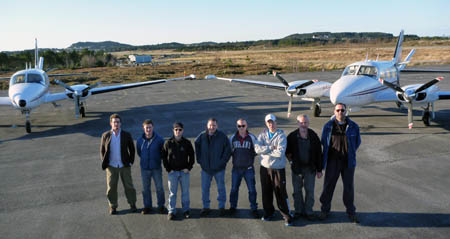 FLY: To fly av typen Piper Navajo og et team fra Novatem er satt inn i arbeidet på kysten av Nordvestlandet. Fra venstre prosjektleder Olivier Savignet, operatør Sébastien Jubelin, pilotene Mathieu Yanire, Daniel Thibeault, Benoît Käppeli og Simon Larivée, mekaniker Luc Gagnon og pilot Daniel Barrington.