Fant nye oldtidsspor ved Aswan
Forskere har trolig funnet kvernsteiner og slipesteiner fra faraoisk tid i et steinbrudd i Gebel Gulab vest for Aswan i Egypt.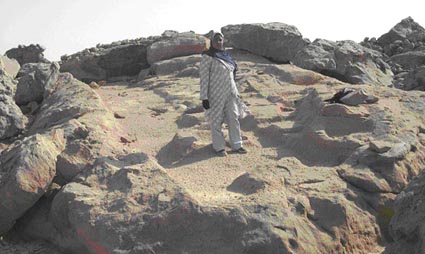 Waffaa, arkeolog og inspektør i Aswan, på en påbegynt obelisk. Toppflaten er hugget ut med tunge steinkuler.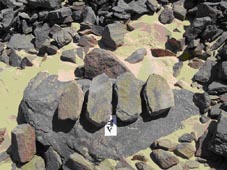 Huggede emner; kanskje til slipestein?
Også digre obelisker og statuer er forsøkt brutt ut av sandsteinen i området.
- I dette området på vestbredden av elva Nilen har vi funnet godt bevarte spor etter industriell brytning av nytteredskaper i oldtiden. Det er både overraskende og nytt, sier forsker Tom Heldal ved Norges geologiske undersøkelse (NGU).
Et 12 kvadratkilometer stort område, 90 mil sør for Kairo og rett over Nilen fra byen Aswan, er foreløpig kartlagt av et forskerteam fra Norge, England og Egypt. Gebel Gulab, eller fjellet Gulab, er under press: Veger, moderne industri og nye boligområder spiser seg gradvis inn i området.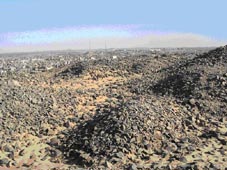 Skrot fra steinbruddsdrift er ikke et nytt fenomen...
Fra det nye riket
Derfor haster det med å karakterisere funnene. Og allerede etter den første feltsesongen i 2004 fastslår Tom Heldal at oppdagelsene er spesielle:
- Hittil har det vært antatt at det var mest store statuer og obelisker som ble tatt ut i faraoisk tid, og at omfattende drift av romerne på et senere tidspunkt hadde ødelagt mye av de faraoiske sporene, forteller Heldal.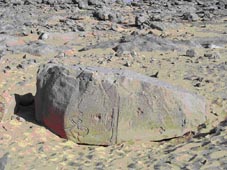 Kong Seti 1s obelisk kom aldri frem til bestemmelsesstedet - i dag ligger kun spissen igjen i bruddet.
- Men Gebel Gulab er langt mer sammensatt og komplekst enn som så. Romernes drift var
faktisk av liten betydning, og det meste vi ser av spor i dag stammer fra flere perioder med faraoisk drift, fortrinnsvis fra det nye riket mellom 1000 og 1500 før Kristus.
Storskala brytning
I tillegg til statue- og obeliskbrytning bærer området preg av storskala brytning av nytteredskaper, trolig kvernstein og slipestein.
- Det er i så fall kanskje de mest interessante bruddområdene, siden avdekking av faraoisk hverdagsindustri ikke akkurat er hverdagskost, fastslår Tom Heldal.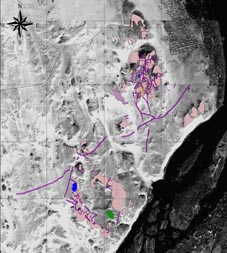 Her er området som er foreløpig kartlagt vest for Aswan. Klikk på bildet for større versjon.
- En annen overraskelse er den bemerkelsesverdige gode bevaringen av de faraoiske vegsystemene knyttet til driften; ramper, brolagte veger, eseltråkk og slippveier, alt knyttet til transport av stein ut til Nilen.
Ut av Egypt?
Men hvor tok steinen vegen? Hvor kan man finne igjen nyttegjenstandene? Den britiske arkeologen Elisabeth Bloxam fra University College i London leter nå etter svaret i litteraturen og er allerede i ferd med å finne ledetråder.
- Vi vet ikke, sier Heldal, - vi vet ikke en gang om de ble fraktet ut av området. Dette er et puslespill. Vi trenger mer tid og flere feltsesonger på å finne svarene.
Spennende og sammensatt
Prosjektet i Gebel Gulab i Egypt drives av Elisabeth Bloxam, Tom Heldal, hans norske kollega Per Storemyr i Expert Centre for Conservation of Monuments and Sites i Sveits, og de egyptiske arkeologene Adel Kelany og Ashraf el-Senussi.
- Dette er det mest sammensatte og spennende området jeg har arbeidet i i Egypt, fastslår Tom Heldal.
PS.: Discovery Channel og National Geographic Channel har nylig laget en TV-dokumentar med Heldal og britiske arkeologer fra en tidligere ekspedisjon til Egypt: Arbeidet i Khafras steinbrudd er tilgodesett med en halvtimes TV-program.
Les mer:
Avdekket steinbrudd for faraoer

Kontaktperson ved NGU:
Forsker Tom Heldal,
tlf.: 73 90 42 05 eller mob. 99 09 17 39
e-post: tom.heldal@ngu.no