Tungvekter om mineraler for samfunnet
96 vitenskapelige artikler om mineralogi i samfunnet, samlet på over 800 sider. Som redaktør har NGU-forsker Maarten Broekmans hatt en omfattende jobb med å sammenstille kunnskapen mellom to permer.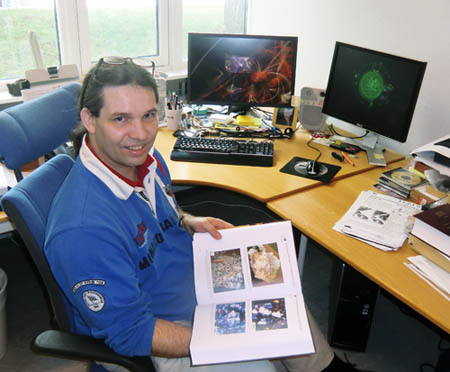 800 SIDER: Forsker og redaktør Maarten Broekmans blar i den nye boka som inneholder 96 skrifter om anvendt mineralogi.
Bakgrunnen var den tiende internasjonale kongressen for anvendt mineralogi (ICAM), som ble arrangert i Trondheim i august 2011. Over 140 deltakere fra 42 land var samlet til foredrag, ekskursjoner og diskusjoner om temaet.
Mineraler er overalt
Nå er boka etter denne internasjonale konferansen ute på anerkjente Springer forlag. Maarten Broekmans ved Norges geologiske undersøkelse (NGU) har samlet inn og sørget for en vitenskapelig godkjenning av hele 96 skrifter. Temaene dekker alt fra høyteknologiske produkter, analyseteknikker, mineraler i medisinsk utstyr, byggeråstoffer, industrimineraler, bevaring av kulturarv, "grønn" teknologi og metallurgiske prosesser.
- Mineralogi er læren om mineralene; om hvordan de er dannet, om forekomster, egenskaper, sammensetning og klassifisering. Mange arbeider med dette og kunnskapen er svært viktig for hele samfunnet, fastslår Broekmans.
Kulturarv og komfyr
Han mener at folk flest neppe tenker på mineraler når de fått satt inn en kunstig krone på en tann, har behov for en hofteprotese eller når de får nyresten.
- Et annet eksempel er vår kulturarv. Når et byggverk nyrestaureres er det vesentlig å vite hva som forårsaker forvitringsprosessene. Og tenk på en keramisk koketopp på en komfyr. Her er det jo viktig å ha den rette sammensetningen av mineraler for at kokeplatene ikke skal utvide seg eller trekke seg sammen når komfyren er henholdsvis varm eller kald, påpeker Maarten Broekmans.
Bidragene publisert
Innholdet i boka "Proceedings of the 10th International Congress for Applied Mineralogy (ICAM)" vil etter alt å dømme brukes av mange i forskersamfunnet. Boka trykkes på forespørsel, men alle bidrag kan lastes ned hver for seg fra forlagets egne databaser. Emneregistret alene er på hele 20 sider.
- Det har vært mye arbeid, men det er verdt det. Tilbakemeldingene viser at folk er fornøyde og at bidragene blir brukt, sier Maarten Broekmans.