Ung og fremragende NGU-forsker
NGU-forsker Susanne Buiter (36) får sju millioner kroner i forskningsstøtte som "Yngre fremragende forsker" (YFF). Hun studerer kontinentenes bevegelser og hva som skjer når skorpeplater krasjer eller rives fra hverandre.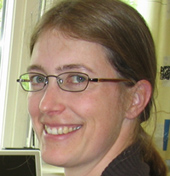 Forsker Susanne Buiter
Det er andre gang Norges Forskningsråd har lyst ut midler innenfor ordningen YFF. 179 kandidater fra norske universiteter, høyskoler og forskningsinstitusjoner var aktuelle søkere, men bare 20 ble gitt bevilgning. Totalt vil disse 20 motta 175 millioner kroner fordelt på de neste fire årene. Susanne Buiters forskning støttes med sju millioner kroner.
Buiter var blant de som nådde helt opp i den knallharde konkurransen. Hun har i flere år arbeidet med den såkalte Wilson-syklusen. Teorien tar for seg kontinentenes oppførsel og bevegelser - spesielt hva som skjer nå to skorpeplater møtes eller vandrer fra hverandre.
Kontinuerlig kontinentbevegelse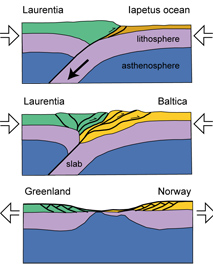 Kontinentplater som møtes og går fra hverandre. Klikk på bildet for stor versjon.
- Kontinentene er i kontinuerlig bevegelse, med forskjellig hastighet og retning. Jeg er mest opptatt av den prosessen vi kaller subduksjon, som er prosessen da en skorpeplate glir inn under en annen, og motsatt når to plater sklir fra hverandre og havet "åpner seg," forteller Susanne, som ble svært gledelig overrasket over den hyggelige meddelelsen fra Forskningsrådet.
I forskningsprosjektet har hun satt seg som mål å svar på flere viktige spørsmål. Hva får kontinentene til å bryte opp og gå hver sin vei etter en kollisjon? Og hva er skjeben til et lite kontinent som kolliderer med et stort; forvinner det under det store kontinentet, eller kan det holde seg på overflaten?
Unik i verden
- Det er mange teorier på det, men ingen har sett så stort på dette som vi gjør i prosjektet, forteller Susanne. I tillegg til å bli betrodd av Forskningsrådet som fremragende forsker, er hun den eneste i verden som prøver å forstå hele syklusen fra subduksjon, via kollisjon og senere kontinental separasjon.