Istidene kan ha fjernet olje og gass i nord
Olje og gass som en gang fantes under bunnen av Barentshavet kan ha lekket ut. Et bredt sammensatt forskerteam skal nå granske om det er istidene som har kostet oss så dyrt.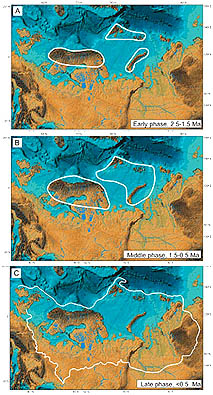 ISUTBREDELSE: Illustrasjonen viser isutbredelse under maksimums-glasiasjoner mellom henholdsvis 2,5 til 1,5 millioner år siden (øverst), 1,5 til 0,5 millioner år siden (i midten) og de siste 500.000 år (nederst). Iskappen har ligget sentrert i Barentshavet i lange perioder. Klikk på bildet for større versjon.
- Flere ganger de siste to-tre millioner år har iskapper over nordområdene ligget sentrert i Barentshavet og over de arktiske øygruppene. Voldsomme ismasser har gang på gang brøytet seg veg og skurt bunnen ren for sedimenter, forklarer seniorforsker Eiliv Larsen ved Norges geologiske undersøkelse (NGU).
Han spør nå om isens herjinger også kan ha ødelagt petroleumsreservoarer.
Vanskelig å finne
Derfor vil forskere fra NGU, Rogalandsforskning, Universitetet i Bergen og Universitetet i Tromsø bokstavelig talt til bunns i problemene: Har den gjentatte iserosjonen, kombinert med landhevingen i tertiær og kvartær tid, også påvirket olje- og gassreservoarene?
Utgangspunktet er enkelt: Det er boret mange letebrønner i Barentshavet, men det har hittil vist seg vanskelig å finne petroleum. På norsk sokkel er Goliat og Snøhvit-feltet, med store mengder gass, så langt et unntak. På russisk side derimot, er det gjort flere betydelige funn.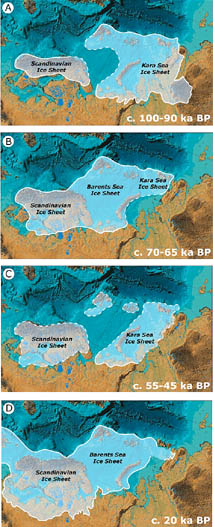 SISTE ISTID: Illustrasjonen viser isutbredelsen i løpet av siste istid. Isen har generelt fått en mer vestlig dominans gjennom denne istiden. Den maksimale isutbredelsen vestover skjedde for ca. 20.000 år siden. Barentshavet har også under siste istid vært under kraftig press av iskappene. Klikk på bildet for større versjon.
Hva skyldes forskjellene, og hvor er oljen - og eventuelt andre gassressurser - på norsk sokkel?
På grunnere dyp
- Isbreenes erosjon i Barentshavsregionen førte til utbygging av store vifter på marginen mot dyphavet. Denne enorme redistribusjonen av masse, sammen med generell landhevning, førte til at oljereservoarene ble hevet høyere opp. Samtidig ble jordskorpen pumpet ned og opp på grunn av den tunge isen som stadig kom og gikk. Som en følge av alt dette ble kanskje de oljeførende lagene etter hvert skråstilte, slik at oljen lekket ut, antyder Eiliv Larsen.
Det er dette den store forskergruppen, som teller over 30 personer, nå skal finne ut gjennom prosjektet "Ice ages: Subsidence, uplift and tilting of traps - the influence on petroleum systems" eller GlaciPet (glasiasjoner og petroleum).
De skal kvantifisere erosjon og avsetning, beregne landheving og istykkelse, og modellere effektene på petroleumsreservoarene. - Istidshistorien viser oss at det kanskje også er forskjell på øst og vest i Barentshavet, sier Larsen.
Allerede til sommeren publiserer han nye funn om iskappenes dominans i Karahavet og Barentshavet under den siste istiden, for 100.000 til 10.000 år siden.
Petromaks-prosjekt
Det omfattende forskningsprosjektet GlaciPet er støttet av Norges forskningsråds store satsing Petromaks. I bedømmelsen blir prosjektet betegnet som "outstanding" og "unikt", og beskrevet som et "internasjonalt viktig arbeid helt i forskningsfronten".
Industripartner i prosjektet er oljeselskapet Hydro og arbeidet skal pågå fram til utgangen av 2009. Prosjektkostnadene er beregnet til nærmere 19 millioner kroner. Resultatene fra de nye undersøkelsene i GlaciPet kan etter alt å dømme bidra til å styrke modellberegningene og letestrategiene til oljeselskapene.