Avdekker forurensing på elvesletter
All verdens forurensing skal bokstavelig talt under lupen: Forskere skal kartlegge innholdet av miljøgifter i flomsedimenter på de mektige elveslettene og undersøke utslipp til havet fra klodens 200 største elver.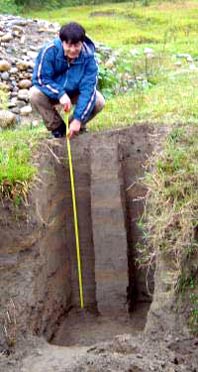 PRØVER: En prøvetakingsgrop på en elveslette i Kina. Nå skal metoden også brukes i Afrika.
- De store elvene sender enorme mengder med næringsstoffer og miljøgifter ut i havene hvert eneste år. Vi ønsker å studere om denne transporten har endret seg vesentlig gjennom de siste århundrene. Slik skaffer vi oss ny og solid kunnskap om Jordens helsetilstand, sier seniorforsker Rolf Tore Ottesen ved Norges geologiske undersøkelse (NGU).
Sammen med sin kollega Jim Bogen ved Norges vassdrags- og energidirektorat (NVE) står han bak initiativet, som nå brer om seg.
I hele Afrika
- Miljøtilstanden på land er allerede kartlagt i Norge og Kina. Kineserne valgte å benytte en metode utviklet av NVE og NGU. Nå står hele det afrikanske kontinentet for tur. Undersøkelsene er viktige, både med hensyn til ressurser, forurensing og helse, sier Ottesen.
Det er en prøvetaking med svært lav tetthet dette dreier seg om. I Afrika er det planlagt å ta prøver på mindre enn 1000 lokaliteter, én prøve dypt nede i sedimentene og en i overflaten. I tillegg skal deltaene fra 25 elver undersøkes.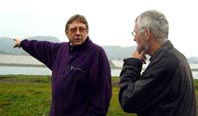 KARTLAGT: Jim Bogen (t.v.) og Rolf Tore Ottesen ved Yantze-elven i Kina. Rismarkene er til dels forurenset med kadmium.
Vann og mat
- Men hvorfor på elveslettene?
- 75 prosent av verdens befolkning bor på elvesletter; herfra henter folk vann og mat. Mange steder er grunnvannet kraftig forurenset eller forgiftet. Millioner av mennesker drikker mer eller mindre forgiftet vann hver dag, understreker Ottesen.
Samtidig er det både billig og effektivt å kartlegge forurensing på elveslettene. Her er det naturen selv så å si som har samlet inn prøvene: Sedimentene, som ligger lagdelt på elveslettene, er avsatt under flom gjennom lange tidsrom. Ved å hente prøver dypt nede i lagene, kan forskerne bestemme den naturlige tilstanden i området.
Prøver fra de øverste lagene avslører den menneskelige aktiviteten i nyere tid.
Jordens diagnose
- Målet er å analysere prøvene på 76 grunnstoffer, samt en del organiske bestanddeler. Ved å sammenligne naturforholdene i dypet med forurensingen på toppen, kan vi stille en diagnose på Jordens tilstand, påpeker Rolf Tore Ottesen.
Det blir etter alt å dømme Institute of Geophysical and Geochemical Exploration (IGGE) i den kinesiske Heibei-provinsen, som skal analysere all verdens prøver. Selv har kineserne dekket et område 30 ganger større enn Norge med bare 529 prøvefelt.
Tungmetaller i ris
- Men dette er tilstrekkelig og de innsamlede prøvene er av god kvalitet. Ved å iverksette en oversiktskartlegging viste kineserne blant annet at jordbruksområdene med de digre rismarkene langs Yantze-elven til dels er sterkt forurenset med kadmium. Tungmetallet er også påvist i risplantene og sedimentene på elveslettene er forurenset helt ned til Shanghai, forteller Ottesen.
Et annet resultat av kartleggingen er funn av nye, store platinaforekomster sør i landet.
Prosjektet gjennomføres i regi av den internasjonale jorderosjonskomiteen (ICCE), som fra årsskiftet fikk NVEs Jim Bogen som president.
Kontaktperson ved NGU:
Forsker Rolf Tore Ottesen,
e-post: rolf.ottesen@ngu.no
tlf.: 73 90 43 02, mob.: 99 09 17 44