Borer etter varme i dype fjell
Norges geologiske undersøkelse (NGU) har i vinter gjennomført to dype boringer inn i selve grunnfjellet i Oslo-området. Målet er å øke kunnskapen om hvordan varme produseres og transporteres i ulike bergarter på forskjellig dyp.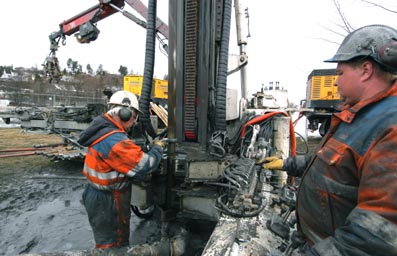 Ansatte ved Båsum Boring AS gjennomførte de vellykkede dypboringene ved Arnestad skole i Asker. Foto: Per Aas
Boreriggen som ble brukt ved Arnestad er en av landets største i sitt slag. Foto: Per Aas
- Målet var å nå ned til 800 meter i ett av de to prøvehullene ved Arnestad skole sør i Asker. Vi stanset på 685 meter, men det er likevel godt nede i grunnfjellet, forteller berggrunnsgeolog Gunnar Juve, som arbeider som konsulent for NGU i Oslo-området.
Ved 450 meter dyp ble det målt hele 18 grader C. Den høye temperaturen skyldes et 100 meter tykt lag med radioaktivt alunskifer nede i berggrunnen.
- Vi vet at radioaktive granitter produserer godt med varme, men vi må lære oss enda mer om varmeproduksjonen under beina våre, forteller forsker Kirsti Midttømme ved NGU.
Energien i bunn
- Teorien er at det blir varmere jo dypere du kommer, men det er svært mange faktorer som spiller inn, forteller hun. Både varmeledningsevnen og varmeproduksjon i bergartene har stor betydning for varmestrømmen og temperaturen i grunnen. Det samme har løsmassemektigheten.
For tre år siden boret NGU to 500 meter dype forskningsbrønner i Bærums Verk. Nå går de enda dypere: Hullene i Asker går gjennom kambrosilurske bergarter og helt ned til prekambrium, grunnfjellet som ble dannet for en milliard år siden.
- Prøvene er hentet ut og skal nå gjennomgå mikroskopering og geokjemiske analyser ved NGUs eget laboratorium i Trondheim, opplyser Midttømme.
Arbeidet med dypboringene er en del av det omfattende prosjektet Geologi i Oslo-regionen (Geos). Her blir det over en femårsperiode hentet inn og samordnet store mengder geologisk informasjon til bruk i utviklingen av det sentrale Østlands-området.
Økning i Sverige
En rekke skoler og bedrifter har allerede tatt i bruk grunnvarme som oppvarmning. Økt strømpris de siste par årene har tvunget mange til å se på nye, fornybare og miljøvennlige energialternativer. I både Sverige og Nord-Amerika har salget av varmepumper basert på grunnvarme økt kraftig.
- Sammenlignet med Sverige og flere andre land er vi fortsatt sinker på å utnytte energien magasinert i berggrunn og grunnvann, understreker Kirsti Midttømme. Likevel bores det i dag flere energibrønner enn grunnvannsbrønner her i landet. Ifølge Bjørn Halvorsen, leder i Norsk brønnborerforening, er over 60 prosent av brønnene som bores på Østlandet, Vestlandet og i Trøndelag energibrønner.
- Andre landsdeler ligger noe under, men også her er tendensen stigende, fremholder Halvorsen.
Kontaktpersoner ved NGU:
Forsker Kirsti Midttømme, tlf.: 73 90 43 16
kirsti.midttømme@ngu.no
Prosjektleder i Geos, Odleiv Olesen, tlf.: 73 90 44 56
odleiv.olesen@ngu.no

Les mer:
Dette er grunnvarme
Grunnvarmeanlegg i Norge
Sverige satser mer på vannbåren varme
Geologi i Oslo-regionen (Geos)