Avdekket steinbrudd for faraoer
Norske geologer og britiske arkeologer har avdekket ny og verdifull kunnskap i et nesten 5.000 år gammelt steinbrudd helt sør i Egypt. Khafras steinbrudd, et av verdens eldste, har inntil nå vært uregistrert som kulturminne.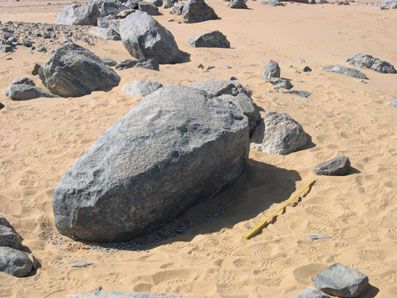 Et statueblokk ligger igjen i ett av steinbruddene. Blokken er pent tilformet og hugget med steinøks.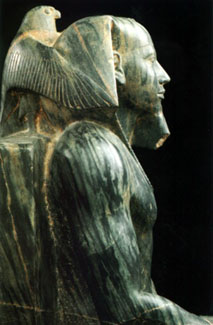 En statue av Khafra i Kairo museum. Dette bildet er fra et postkort.
- Det svære ørkenområdet på nesten 100 kvadratkilometer rundt Khafras steinbrudd nær grensen mot Sudan, var akutt truet av et kunstig vanningsprosjekt. Etter kartleggingen, undersøkelsene og utgravingene som nå er gjennomført, har egyptiske myndigheter satt i gang en prosess for å få deler av området vernet, forteller forsker Tom Heldal ved Norges geologiske undersøkelse (NGU).
Forskerne har gransket i alt 700 små og store brudd i Khafras steinbrudd, som var i drift for 4.500 til 5.000 år siden. I tillegg er det registrert over 200 kulturminner knyttet til driften, blant annet lasteramper for steinblokker, arbeidsplasser, brønner og bebyggelse.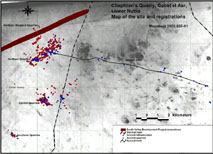 Kartet er utarbeidet etter funnene som er gjort i området, og viser både steinbrudd (røde felter) og elementer fra infrastrukturen (blå punkter). Den gamle ferdselsåren til Nilen går østover fra selve bruddene. Klikk på kartet for større bilde.
Steinbruddene, som ligger cirka 350 kilometer sørvest for Aswan og 65 kilometer vest for det verdenskjente Abu Simpel-tempelet, har ligget urørt ute i ørkenen helt fram til de siste årene.
Eldste fyrsetting
Det internasjonale forskersamarbeidet har resultert i en rekke nye vitenskapelige funn fra faraoenes tid. Nettopp her, i det flate ørkenlandskapet vest for Nassersjøen, ble det tatt ut hard gneis som ble omdannet til krukker, fat og boller. Gjenstandene ble brukt som gravgods til faraoene.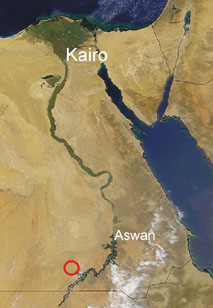 Her ligger Khafras steinbrudd (innringet) helt sør i Egypt.
Noe senere i brytningstiden ble det tatt ut store steinblokker for å lage statuer. Statuene av Khafra (Chephren) i naturlig størrelse regnes som noen av de vakreste kunstverkene fra det gamle Egypt. I arbeidet har forskerne trolig også kommet over det hittil eldste bevis for bruk av fyrsetting i steinbrudd.
- I det gamle riket, nesten 2.500 år før Kristus og faktisk enda tidligere, ble det produsert enorme mengder med vakre produkter av hard stein. Det var en utrolig bragd, selv sett i lys av våre dagers teknologi, sier Tom Heldal.
Kunstig vanning
Et gigantisk irrigasjonsprosjekt, South Valley Development Project, har inntil nylig truet steinbruddene med rasering.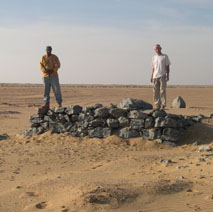 Her er det gravd fram en godt bevart lasterampe for store steinblokker.
Prosjektet skulle føre overskuddsvann fra Nassersjøen ut til nye jordbruksarealer i ørkenen.
- Derfor har det vært viktig å registrere de gamle steinbruddene skikkelig slik at beslutningsgrunnlaget for vern blir best mulig. Med grunnlag i prosjektet er det nå satt i gang en prosess i Egypt for å få best mulige løsninger for dette, påpeker Heldal.
Den geologiske kartleggingen har foregått fulldigitalt, ved hjelp av GPS og felt-PC'er, basert på en metodikk utviklet ved NGU.
Kartleggingen av de gamle steinbruddene sør i Egypt pågår mens moderne utbyggingsprosjekter nærmer seg i bakgrunnen.
I tillegg er det foretatt arkeologiske utgravninger på 12 lokaliteter, hvor det blant annet ble funnet mye keramikk fra det gamle riket.
- Samlet sett gir steinbruddene et helt unikt grunnlag for forskning omkring dagligliv og teknologi i det gamle Egypt. Også forskning om klimaendringer er interessant her, fordi området har endret seg fra savanne til dagens tørre ørken. Utgravningene kan gi oss interessante opplysninger om hvordan klimaet var på den tiden steinbrytningen foregikk, understreker Heldal.
Omfattende samarbeid
Selve prosjektet er et norsk-britisk-egyptisk samarbeid. Den norske innsatsen er finansiert av Utenriksdepartementet, Riksantikvaren og NGU.
Prosjektdeltakere har vært NGU, Expert-Center für Denkmalpflege i Zürich, Riksantikvaren, Egyptian Antiquities Information System (EAIS), Egyptian Geological Survey and Mining Authorities (EGSMA), University of Liverpool og University College of London.
Les mer:
Jakten på steinen
Kontaktperson ved NGU:
Forsker Tom Heldal, tlf.: 73 90 42 05
tom.heldal@ngu.no