Utarbeider vannprosjekt i Etiopia
I samarbeid med Geological Survey of Ethiopia (GSE) er NGU er i gang med å utarbeide et forprosjekt som på sikt kan gi det afrikanske landet bedre tilgang på grunnvann.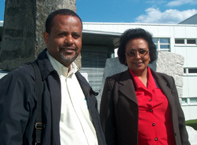 Direktør Ketema Tadesse ved GSE og minister Sinkinesh Ejigu fra Ministry of Mines i Etiopia har vært på besøk ved NGU.
Gjennom det såkalte Ethionor-prosjektet hadde NGU et tett samarbeid med sin søsterorganisasjon i Etiopia. Prosjektet strakk seg over en fem-års periode fra 1996 til 2001. Resultatene fra dette samarbeidet er en av grunnene til at NGU har fått i oppdrag å bistå under utviklingen av et nytt prosjekt.
Etiopia er et land med 67 millioner mennesker og har et areal som er tre ganger så stort som Norge. Vannforsyning er per i dag et stort problem i det meste av landet.
- Foreløpig er det et forprosjekt det er snakk om. Vi vil ta for oss forskjellige alternativer i forhold til vannforsyningen. Blant annet vil vi dra nytte av tidligere arbeid som NGU har gjort i Sør-Afrika. Dessuten er det mye både kompetanseutvikling- og utveksling i samarbeidet med kolleger i Etiopia, sier Bjørn Frengstad, som forsker på grunnvann ved NGU.
Forprosjektet vil ende med en søknad om et større prosjekt i landet. En slik søknad vil foreligge på senhøsten 2003.
Kontaktpersoner ved NGU:
Bjørn Frengstad, tlf: 73 90 43 80
Atle Dagestad, tlf: 73 90 43 60