Bergens-jenter vant klimakonkurranse
Bergens-venninnene Liv Sofie H. Utvær og Ingrid A. Eidsvaag vant klimakonkurransen På tynn is. Nå gleder de to 16-åringene seg til å bli med forskere på feltarbeid i Nordvest-Russland i juni.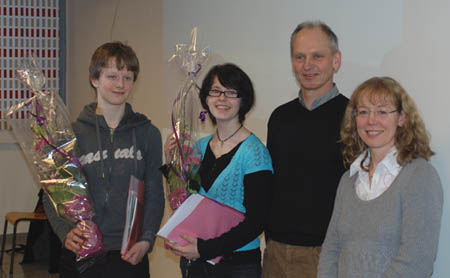 Liv Sofie H. Utvær og Ingrid A. Eidsvaag fra Fyllingsdalen ble hedret av Eiliv Larsen og Astrid Lyså nylig. I juni skal jentene bli med forskerne på feltarbeid i Nordvest-Russland.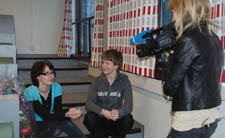 NRK Vestlandsrevyen laget også et innslag på vinnerne. I tillegg ble Liv Sofie og Ingrid intervjuet i Bergens Tidende. Foto: Astrid Lyså- Det var utrolig gøy at vi vant. Fantastisk! sier de to venninnene fra Fyllingsdalen. De to har hengt sammen gjennom hele barne- og ungdomstida, men skilte lag da de begynte på hver sin videregående skole i fjor høst.
Menneskeskapte
Konkurransen På tynn is så de som en mulighet til å bli mer sammen på fritiden igjen. Høsten 2007 brukte de til å besøke bibliotek,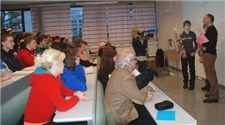 Hele førstetrinnet ved Fyllingsdalen videregående skole var møtt opp for å heie på jentene som vant klimakonkurransen i regi av SciencePub. Foto: Astrid Lysålese bøker om klimaendringer, gå på klimaforedrag, gjennomføre en spørreundersøkelse om ungdoms holdninger til klimaendringer og til slutt å skrive en 17 sider lang besvarelse.
- Noe av det vi undersøkte var om klimaendringene i dag er menneskeskapte eller ikke, og om klimaendringene er et problem. Vi kom frem til at de er et menneskeskapt problem som man må gjøre noe med, sier de to jentene i et vinnerintervju med Bergens Tidende.
Globale problemer
- Dersom det går slik FNs klimapanel tror, så vil verdens tettest befolkede områder bli hardest rammet av at vannet stiger. Det er generelt de som er fattigst som kommer til å lide mest. Problemene er globale, fastslår de to.
Oppgaven "En varmegrad fra eller til... En oppgave om klimaendringer før og nå" gikk helt til topps i SciencePub og Naturfagsenterets åpne konkurranse for elever i videregående skole. SciencePub er et stort prosjekt i Det internasjonale polaråret og ledes av Norges geologiske undersøkelse (NGU).
Juryen legger i sin begrunnelse vekt på at jentene har vist stor forståelse for problemer som er knyttet til klimaendringer før og nå.
Solid oppgave
- Besvarelsen er pent redigert og godt skrevet, dere har brukt svært relevante bilder og figurer, og lagt ved alle kildehenvisninger. Juryen vektlegger spesielt at dere også har gjennomført en egen spørreundersøkelse blant 113 tilfeldig valgte ungdommer. Kvaliteten på besvarelsen økte ytterligere ved at dere gjorde egen "forskning" i arbeidet. Alt i alt er dette en fyldig, relevant og solid oppgave som absolutt fortjente seieren! fastslår juryen.
Prosjektleder Eiliv Larsen og forsker Astrid Lyså ved NGU besøkte Fyllingsdalen videregående skole og Bergen Katedralskole og hyllet de to vinnerne i januar. Her holdt de også foredraget "Klimaendringer før og nå - hva så" for elevene.
Dette er for øvrig et foredrag som skal holdes på en rekke videregående skoler utover vinteren og våren, som et ledd i NGUs 150-årsjubileum.