Tror jordskjelvet skyldes isens herjinger
Stor aktivitet i jordskorpa som følge av erosjon etter istidene er den trolige årsaken til det store jordskjelvet ved Svalbard natt til 21. februar. Skjelvet målte 6,2 på Richters skala og er det kraftigste som er registrert i Norge.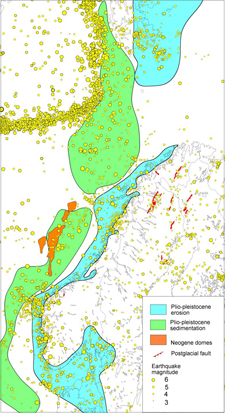 Kartet viser hvor sedimenter var tidligere (blå) og der de ligger nå (grønn). De gule prikkene indikerer jordskjelv. Storfjorden ligger i en erosjonssone med stor jordskjelvaktivitet. Jordskjelvdataene er samlet og analysert av NORSAR.Det er gammelt nytt at det er stor hyppighet av jordskjelv langs den såkalte midthavsryggen, som strekker seg gjennom hele Atlanterhavet, over Island og Jan Mayen og nordover vest for Svalbard. Midthavsryggen er skillet mellom de to platene i øst og vest, med Norge på den ene og Grønland på den andre.
Istid-forklaring

NGU-forsker Odleiv Olesen mener imidlertid det store jordskjelvet ved Svalbard har en annen forklaring.
- Istidene de siste en til to millioner årene har flyttet store mengder sedimenter bort fra Storfjorden ved Svalbard og ut i dyphavet. Denne avlastningen har sannsynligvis skapt bevegelse og spenninger i jordskorpa som har utløst det store jordskjelvet, mener Olesen.
"Ny" erosjon
Langs hele norskekysten har isen flyttet store mengder sedimenter utover fra kysten og mot de dypere havområdene. Dette er en prosess som har pågått gjennom mer enn en million år og 30-40 istider. Området i Storfjorden ved Svalbard har altså blitt preget av erosjon i "nyere" geologisk tid.
Billefjordforkastningen er en gammel nord-sør-gående svakhetssone i Storfjorden. Det er mulig at skjelvet har oppstått nettopp langs denne sonen. På fastlandet ser vi at jordskjelv i dag forekommer langs eldre strukturer i jordskorpa, sånn som Møre-Trøndelagforkastningen og Osloriften.
Odleiv OlesenOdleiv Olesen- Vi finner en rekke jordskjelv langs norskekysten, spesielt utenfor Helgeland og Vestlandet, som skyldes erosjon på havbunnen. Når store mengder sedimenter fjernes fra et område, vil landet heve seg og nye spenninger skapes i jordskorpa, mener Odleiv Olesen. - Samtidig vil avsetingen i dyphavet medføre innsynkning og deformasjon av havbunnskorpen og medfølgende jordskjelv.

Endelig bevis?
- Det største kjente jordskjelvet i Norge før skjelvet i Storfjorden, skyldtes trolig en slik prosess, sier Olesen. Dette skjelvet skjedde i Lurøy-Ranaområdet i 1819 og hadde en styrke på om lag 5,8 på Richters skala. Forskere har i lengre tid diskutert om spenninger som følge av erosjon kan gi så store jordskjelv. - Er det ikke bevist tidligere, kan dette være en klar indikasjon på det, mener han.
Har månen skylda?
Forskere har antydet at endringer i gravitasjonskreftene som følge av måneformørkelse kan spille en rolle i forbindelse med jordskjelv. Det var måneformørkelse natt til 21. februar, da skjelvet ved Svalbard ble utløst.
- Kanskje det er slik at en måneformørkelse har betydning for når jordskjelvet ble utløst, men ikke om. Før eller siden ville det skjedd uansett, mener Odleiv Olesen.