Gransker dødsskred i Patagonia
Norske og chilenske forskere undersøker et fjell- og jordskred som krevde ti menneskeliv i Chile i 2007. Skredet og den påfølgende flodbølgen ble utløst av et jordskjelv og skapte store ødeleggelser.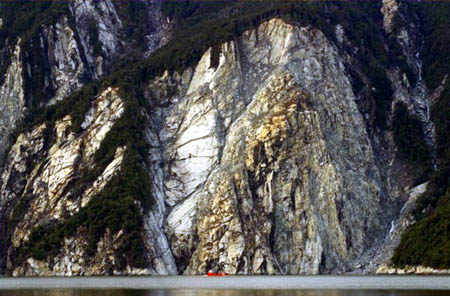 I SJØEN: Et av områdene hvor de største fjell- og jordskredene gikk. Båten er 50 meter lang. Alle foto: Iain Henderson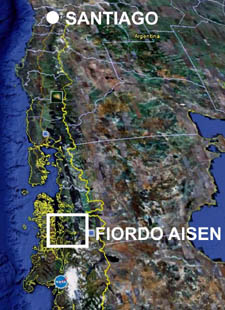 SØR: Kart over Sør-Chile som viser hvor Fiordo Aisen-området ligger i forhold til hovedstaden Santiago. Foto: Google Earth- Dette er et nystartet samarbeidsprosjekt mellom Norge og Chile. Her ser vi både på hvordan vi kan forutse skred og på hvordan fjellskred utvikler seg, forteller forsker Iain Henderson ved Norges geologiske undersøkelse (NGU).
Som en del av prosjektutviklingen og samarbeidet, skal to geologer fra Universitet i Santiago delta på flere fjellskredsprosjekter i Norge i løpet av sommeren 2009.
Samarbeidsprosjekt
Tidligere i år deltok prosjektleder Reginald Hermanns og forsker Iain Henderson fra NGU på feltarbeid rundt Fiordo Aisen sør i Chile. Feltarbeidet var et oppstartsmøte for prosjektet Rockslope Failures: Model and Risks.
Samarbeidet er etablert mellom
ØDELEGGELSER: Kombinasjonen av fjell- og jordskred har gitt store ødeleggelser i fjellsiden. Avsetningene ved vannkanten er cirka 30 meter høye.International Centre for Geohazards (ICG) i Norge, med Norges Geotekniske Institutt (NGI) og NGU i spissen, og den geologiske undersøkelse i Chile i samarbeid med Universitetet i Santiago. Også Møre og Romsdal fylkeskommune og ETH i Zürich var representert under oppstarten.
Aktiv skredutvikling
Prosjektet går ut på å undersøke fjell- og jordskred som ble utløst som følge av et jordskjelv i april 2007. Jordskjelvet, skredene og den påfølgende tsunamien, ga store ødeleggelser og tap av 10 liv i området rundt Fiordo Aisen.
Under vårens feltarbeid holdt forskerteamet seg i dette området, hvor de brukte båt for å komme ut på de mange lokalitetene hvor det har gått skred.
- Hovedpoenget med turen var å formulere delprosjekter og hvilke metoder vi skal bruke. Dette er et utrolig spennende område hvor vi ser aktiv skredutvikling i et område med virksomme vulkaner, forteller Iain Henderson.
Mange oppgaver
Forskerne skal blant annet granske forholdet mellom skredene og bevegelser i jordskorpeplatene. Ved hjelp av satellittdata skal de se på topografi og utvikling av deformasjon før jordskjelvet. I tillegg skal de undersøke rollen til duktile, eller mykere, strukturer og se på sprekkeformasjoner relatert til jordskjelvet. Samtidig skal de foreta detaljertkartlegging av skredlokaliteter og modellere flodbølger.
Henderson understreker at teamet ble tatt svært godt i mot av sine chilenske kolleger. Neste feltarbeid i Chile er planlagt til januar-februar 2010.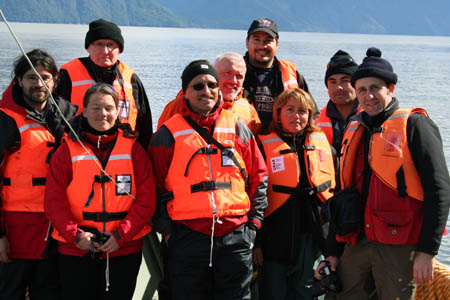 TEAMWORK: Det internasjonale teamet består av deltagere fra Norge, Sveits og Chile.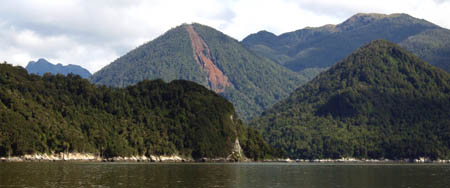 AKTIV: En aktiv vulkan i Fiordo Aisen. Vulkanene ligger på aktive forkastninger.
RAMMET ØYA: Fjellskredet som ble utløst fra fjellsiden på høyre side laget en flodbølge med en oppskyllingshøyde på cirka 30 meter over øya til venstre. Ødeleggelsene er tydeligst nederst på øya.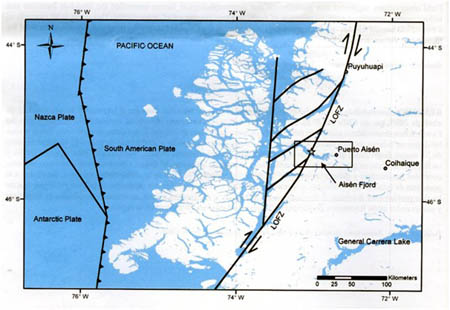 OVERSIKT: Tektonisk kart over Sør-Chile som viser forkastningsmønsteret og hvor jordskjelvets episenter lå i forhold til Fiordo Aisen.