Bok om Barentshavets geologiske historie
NGU har utgitt en 140 sider stor kartbok over Barentshavets geologiske historie. Et nært samarbeid mellom norske og russiske institusjoner ligger bak bokverket.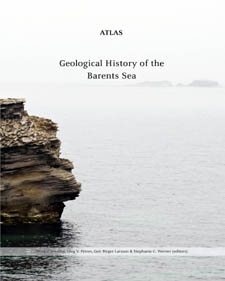 HISTORY: The Barents Sea has finally got its own atlas.The atlas presents a comprehensive compilation of the geology of the Barents Sea, summarizing a vast amount of knowledge and data about this extensive Arctic region.
The geology of the region, which still today represents exploration frontiers, is illustrated by a series of geophysical and paleogeographic maps, based on the integrated knowledge from Russian and Norwegian institutions.
The paleogeographic map span from the Early Devonian to Eocene times, and are supplemented by geophysical maps and cross-sections showing the present day architecture.
Morten Smelror, Oleg V. Petrov, Geir Birger Larssen and Stephanie C. Werner are the editors of the atlas. Design and layout are done by Bjørg Svendgård, Geological Survey of Norway.