Mining Journal-bilag om Norge
Laget for industrimineraler og metaller ved NGU har i seks måneder arbeidet med å få laget et bilag om Norge i Mining Journal. Nå er det ute.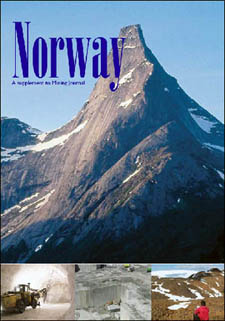 COVER: Norges nasjonalfjell, Stetind, pryder førstesiden på bilaget.Mining Journal trykker jevnlig bilag om malm- og mineralpotensialet i utvalgte land og regioner.
Nær 20.000 i opplag
- Det norske bilaget foreligger nå og er sendt med bladets utgivelse til 19.900 abonnenter over hele kloden, forteller Ron Boyd.
Bilaget omfatter blant annet en hilsen fra statsråd Trond Giske, presentasjon av den nye mineralloven, og en profilering av Norsk Bergindustri og av åtte selskaper som alle har bidratt til kostnadene for utgivelsen.
Timet til Toronto
Utgivelsen er timet slik at bilaget ligger klar til Prospectors and Developers Association of Canadas prospekteringsmesse, som arrangeres i Toronto i mars.
- Den årlige messen, hvor NGU har stand, er den største for prospekteringsbransjen globalt og ventes i år å samle over 20.000 deltagere, opplyser Ron Boyd.
Laget takker for øvrig både Halfdan Carstens, Tom Heldal, Irene Lundquist og Gudmund Løvø for viktige bidrag til det norske bilaget.