Satsar på Noregs geologiske nasjonal- og verdsarv
Startskotet har gått for kåringa av Noregs geologiske nasjonalarv. Det skjedde då Kristin Krohn Devold opna konferansen Frå gråstein til klingande mynt på Norsk Fjordsenter i Geiranger nyleg. Samstundes vart NGU si utstilling 'Ei verdsarv vert til' opna.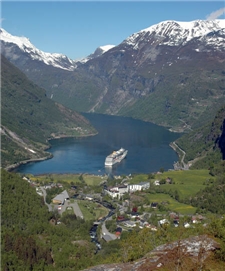 FJORD I SOL: Geiranger lå bada i sol under konferansen om geologi og reiseliv.Over 60 menneske frå mellom anna turistnæringa og offentleg forvaltning var nyleg samla i to dagar i Geiranger for å diskutere reiseliv og geologi. Gjennom ei rekkje foredrag vart det vist til korleis reiselivet skapar skilling frå gråstein, og kva slags utfordringar verksemdene møter i kvardagen.
Framifrå fjordlandskap
Her opna også NGU si utstilling 'Ei verdsarv vert til'. Utstillinga fortel dei mange besøkande i Geiranger korleis geologiske krefter har forma det unike fjordlandskapet frå over 1500 millionar år sidan og fram til i dag.
Det vestnorske fjordlandskapet, med Geirangerfjorden og Nærøyfjorden, er eit av UNESCO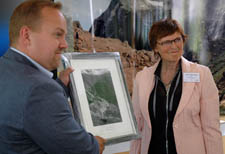 GÅVE: Ordførar Bjørn Inge Ruset fekk Arne Bugge sitt fotografi "Husene på Åkernesset" (1937) av Berit Forbord Moen, NGU, under opninga.sine verdsarvområde. Dei to fjordane med omgjevnader er klassiske, framifrå og velutvikla fjordlandskap, og vert godkjende som verdsarv i 2005.
- Eg håpar utstillinga kan fremje kunnskap, oppleving og undring, sa avdelingsdirektør Berit Forbord Moen ved Noregs geologiske undersøking (NGU) då ho opna utstillinga, som er laga av forskar Rolv Dahl og grafisk formgjevar Lisa Løseth.
Kåring av nasjonalarv
Sjølve konferansen vart drege i gong av generalsekretær Kristin Krohn Devold i Den norske Turistforening (DNT). Ho slo eit slag for kåringa av Noregs geologiske nasjonalarv, og streka under at ein geologisk nasjonalarv både skal ha eit pedagogisk og geologisk utgangspunkt. I tillegg skal det vere eit godt turmål.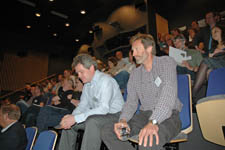 SENTRALE: Rolv Dahl og Halfdan Carstens presenterte kåringa av Noregs geologiske nasjonalarv.Det er Norsk Geologisk Foreining (NGF) som arrangerer kåringa i samarbeid med NGU, GeoPublishing og DNT.
Devold sin favoritt som geologisk nasjonalmonument er Kallen og Kallskaret i Norddal kommune i Møre og Romsdal. Under konferansen varsla forskar Rolv Dahl til dømes at han held ein knapp på strandflatene som ein finn mange stader langs kysten, mens redaktør Halfdan Carstens i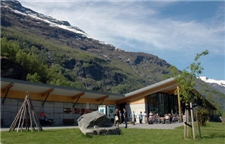 FJORDSENTERET: Norsk Fjordsenter ligg ved Hotell Union i Geiranger.fagbladet Geo, har Kolsåstoppen i Bærum som sin favoritt.
Klart i haust
No er det altså opp til deg å nominera gode kandidatar. Siste frist for nominering er 11. september, på Geologiens Dag. Seinare kan alle stemma blant dei utvalde på nettstaden www.ut.no, før juryen vert samla og tek ei endeleg avgjersle.
Heile konferansen på Norsk Fjordsenter i Geiranger 31. mai og 1. juni vart arrangert av Stiftinga Geirangerfjorden Verdsarv, NGU og NGF.
OPNINGA: Det var samla mykje folk då NGU opna si utstilling i Norsk Fjordsenter.