Kongelig start på polarmøte
Kronprins Haakon åpnet sluttkonferansen i Det internasjonale polaråret tirsdag denne uka. Over 2000 delegater fra 53 land deltar på Lillestrøm-konferansen, som er den største noen sinne innenfor polarforskning.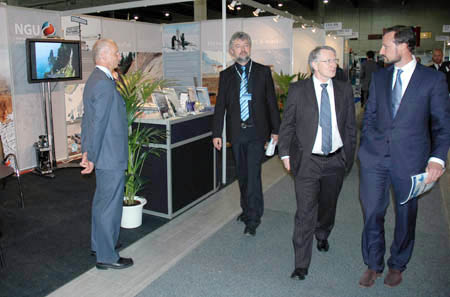 CELEBER GJEST: Kronprins Haakon spaserte forbi Eiliv Larsen og NGUs utstilling på Lillestrøm. Her sammen med administrerende direktør Arvid Hallén og kommunikasjonsrådgiver Kristen Ulstein i Norges forskningsråd.Kronprisen tilbrakte hele formiddagen på konferansen der han både holdt åpningsforedrag, snakket med en gruppe unge polarforskere og tok seg god til en omvisning på det store utstillingsområdet, hvor også NGU er godt representert.
Svært viktig
Det var en stilfull åpning av Polarårets sluttkonferanse. Haddy N'jie var vert for arrangementet, hvor blant andre Terje Isungset, Oslo Soul Children og hun selv opptrådte. I sin åpningstale pekte kronprins Haakon på at polarforskningen kan løse globale problemer og at klimaendringene gjør arbeidet svært viktig.
- Dere kan være stolt av innsatsen, sa kronprinsen blant annet til de vel 2000 delegatene i plenumssalen på Norges varemesse på Lillestrøm.
Forvalte arven
Statsråd Tora Aasland understreket at det to år lange Polaråret har gitt økt internasjonalt samarbeid, større tverrfaglighet og en effektiv bruk av forskningens infrastruktur.
- Nå er det nødvendig å forvalte arven etter Polaråret på en god måte, sa forskningsministeren.
NGU er sterkt til stede på konferansen med en stor utstilling, som blant annet viser arbeidet i det NGU-ledede polarårsprosjektet SciencePub om naturlige klimavariasjoner gjennom siste istid.
Avtale i Arktis
TOPPMØTE. Prins Albert og kronprins Haakon på veg ut av konferansesalen etter formiddagens møter.
I tillegg er kartleggingsprogrammet MAREANO, en av kunnskapsbasene for en bærekraftig forvaltning av Barentshavet og havområdene utenfor Lofoten og Vesterålen, viet stor plass på utstillingen.
En klimaengasjert prins Albert II av Monaco var også til stede første dag av Polarårets sluttkonferanse i Norge. Han møtte unge forskere, holdt foredrag, og signerte en rammeavtale for samarbeid mellom sin egen Prins Albert Stiftelse og Universitetet i Arktis.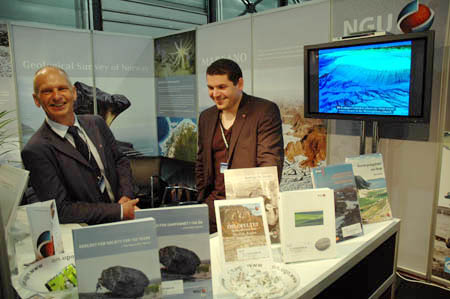 FORSKERE: Eiliv Larsen og Aurelien van Welden er to av NGUs forskere på sluttkonferansen for Det internasjonale polaråret.