Viktige metallforekomster og metallprovinser i ny bok
De største malmforekomstene i Europas nordvestlige hjørne blir avdekket i en ny bok. Flere av dem er i drift, noen er historiske, andre kan bety starten på nye gruveeventyr. 168 gamle og nye metallprovinser med muligheter for nye funn er detaljert beskrevet.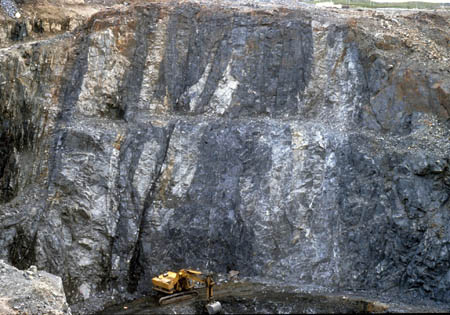 NY BOK: Kobber- og gullmineralisering i Biddjovagge i Finnmark.- Et nyttig hjelpemiddel for leteselskaper, forskere, myndigheter og andre som er interessert i metallprovinsene i Finland, Sverige, Norge og nordvest-Russland, sier forsker Jan Sverre Sandstad ved NGU om boka Mineral Deposits and Metallogeny of Fennoscandia.
Geologi og gruver
Boka har detaljerte beskrivelser av i alt 168 metallprovinser; 40 av dem ligger i Norge. Provinser med muligheter for funn av de aller fleste metaller er representert. Både den geologiske oppbygging av områdene og dannelsen av de ulike forekomstene, blir beskrevet.
Her finner vi en grundig omtale av de tre norske metallgruvene i drift; Tellnes i Rogaland, Rana i Nordland og Sydvaranger i Finnmark. Boka inneholder også beskrivelser av en rekke forekomster som tidligere har vært i drift, blant annet de kjente, kaledonske sulfidforekomstene i Løkken, Folldal, Grong og Sulitjelma. I tillegg beskrives mange mulige framtidige områder, som for eksempel Engebøfjellet i Sogn og Fjordane.
Boka inneholder en gjennomgang av landenes gruvehistorie og de geologiske hovedtrekkene i det geologene kaller Fennoskandia.
- De fleste metallforekomstene i Norge ble dannet i forbindelse med den kaledonske fjellkjedefoldningen for 600-390 millioner år siden. I resten av Fennoskandia var den viktigste perioden for 1,9-1,8 milliarder år siden, forteller Sandstad.
Internasjonalt samarbeid
Boka er resultat av et samarbeid mellom de geologiske undersøkelsene i Finland, Norge, Sverige og Russland.
Tidligere har samarbeidet resultert i den omfattende databasen Fennoscandian Ore Deposits Database (FODD), en fullstendig sammenstilling av data om gruver og malmforekomster i området. Databasen inneholder informasjon om lokalitetene, gruvehistorien, tonnasje, mineraliseringer og kvalitet, samt opplysninger om regionale geologiske forhold og alderen på forekomstene.
Det internasjonale samarbeidet har også resultert i to trykte kart, ett over forekomstene og ett over områder med muligheter for nye forekomster.
Boka, som er på 401 sider med 248 figurer og 105 tabeller, kan bestilles fra NGU eller lastes ned digitalt.