Det er grenser for mantelen
Norge og Sverige er vidt forskjellige, også under jordskorpen. Øverste del av den myke mantelen forandrer seg ved grensen. I Sør-Norge er den både tynnere, varmere og yngre enn på svensk side.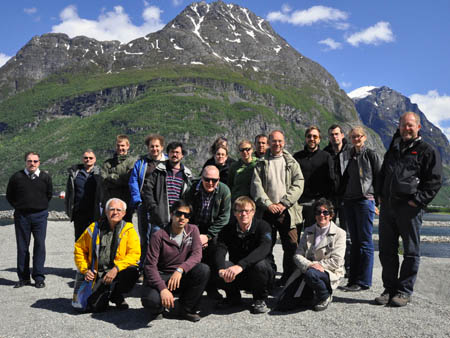 EKSKURSJON: Her er forskere samlet til TopoScandiaDeep-ekskursjon for å drøfte sammenhengen mellom dagens topografi i det norske landskapet og prosesser i den øvre delen av mantelen. Foto: Aziz Nasuti- Vi har mye mer til felles med Danmark enn med Sverige på akkurat dette området, sier forsker Jörg Ebbing ved Norges geologiske undersøkelse (NGU). Sammen med NGU-kollega Sofie Gradmann fordyper han seg gjerne i bunnforholdene i Skandinavia.
Måler i dypet
Paradoksalt nok handler kunnskapen om undergrunnen egentlig om fjell. De siste årene har det pågått en heftig akademisk diskusjon om hvordan norske fjell er blitt dannet, og hvor gamle de er. Kartlegging av det geologene kaller litosfæren, bergartene i jordskorpen og den øverste del av mantelen, kan bidra til at nye brikker i puslespillet om norske fjell faller på plass.
I samarbeid med en rekke internasjonale kolleger bruker Jörg Ebbing og Sofie Gradmann geofysiske målemetoder for å granske litosfæren ned til 150-200 kilometers dyp.
- Ett av de mest bemerkelsesverdige resultatene er altså at den øvre mantelen under Sør-Norge er ganske forskjellig fra mantelen under Sverige. Seismiske undersøkelser viser en svært tydelig grense langs vestkysten av Sverige og nordover i grenselandet mellom de to landene, forteller Ebbing.
(Artikkelen fortsetter under bildet)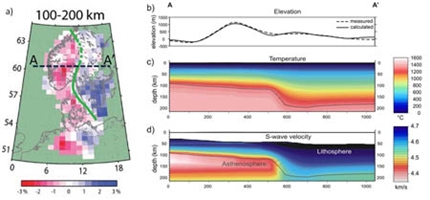 Figuren til venstre viser en geofysisk grense som kan følges helt fra vestkysten av Sverige og nordover mot Trøndelag. Ref.: Medhus et al. 2012. I figuren til høyre er mantelstrukturen modellert. Ref.: Gradmann et al. 2012. Klikk på bildet for stor versjon.
Yngre og varmere
Forskerne mener at undersøkelsene bekrefter at Norges mantel er yngre enn den svenske og at den ligner mer på mantelen under Danmark. Samtidig er den øverste delen av mantelen både tynnere og varmere enn den svenske.
Men hva innebærer det?
Forsker Jørg Ebbing forklarer: - Alt handler om fjell og om terrenget vi ser i Norge i dag. Norge ligger på det vi kaller det fennoskandiske, eller baltiske, skjold. Det utgjør grunnfjellet i Norge, Sverige og Finland. Det baltiske skjold er stabilt, men har gjennomgått tre fjellkjededannelser hvor også litosfæren er blitt kraftig påvirket. For 400 millioner år siden støtte jordskorpeplaten med Grønland og Nord-Amerika sammen med Vest-Europa og Skandinavia. Her ble den kaledonske fjellkjeden dannet, og det er restene av den vi vandrer på i dag.
Bratte norske fjell
De tydelige strukturforskjellene i litosfæren mellom Norge og Sverige, kan tyde på flere ting:
- Kanskje kan denne forskjellen bidra til å forklare den skarpe og bratte profilen vi ser i mange norske fjell i dag. Vi vet fra tidligere at riftstrukturene på kontinentalsokkelen er medvirkende. Vi vet at overgangen mellom det stabile baltiske skjoldet og restene av fjellkjeden er sterkt påvirket av strukturene i litosfæren. I øst er de mykere mantelbergartene eldre og mindre påvirket av den kaledonske fjellkjededannelsen.
Arbeidsmøte
Nå skal forskerne fortsette undersøkelsene. Allerede i fjor startet arbeidet med å hente inn geofysiske data fra Lofoten og østover til finskegrensen i den Botniske viken. I år og i ytterligere to år framover blir det gjennomført geofysiske målinger fra Trøndelag til Finnmark.
- Det blir både spennende og viktig å se om grensen mellom de forskjellige mantelstrukturene fortsetter i nord, sier Sofie Gradmann.
Forskningen er gjort i prosjektet TopoScandiaDeep, som ledes av Valerie Maupin ved Universitetet i Oslo (UiO). Prosjektet er en del av TopoEurope-programmet, som i sin tur er finansiert av Norges forskningsråd gjennom European Science Foundation.
Ref.: Tectonophysics (Ebbing et al. 2012 og Maupin et al., 2013)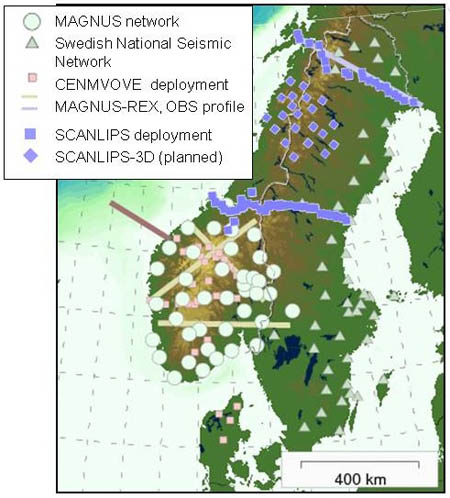 SAMARBEID: Figuren viser hvor det er gjennomført seismiske målinger i Sør- og Nord-Norge. Arbeidet fortsetter de to neste årene i samarbeid med en rekke europeiske universiteter og institusjoner.