Beskriver Jordens mest dramatiske periode
En rekke voldsomme omveltninger på planeten Jorden. Tilførsel av oksygen, en global istid, forsteinet olje, spor av liv. De dramatiske endringene i Jordens miljø for 2,5 til 2 milliarder år siden, blir beskrevet i et nytt storverk.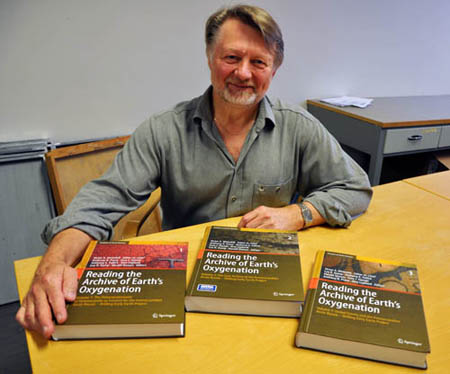 TUNGT ARBEID: - Nå er arbeidet publisert, fastslår forsker Victor Melezhik ved Norges geologiske undersøkelse (NGU). Han er svært tilfreds med resultatet.
Nå foreligger en illustrert reise gjennom en av de mest spennende perioder på Jorden. Fem års intensivt arbeid oppsummerer kunnskap fra mer enn 50 års internasjonalt feltarbeid, knadd gjennom diskusjoner og kompromisser med toppforskere fra 12 land.
Et knallhardt vitenskapelig puslespill gjennom lange dager og sene kvelder har endt opp i trebindsverket Reading the Archive of Earth's Oxygenation.
Krevende feltarbeid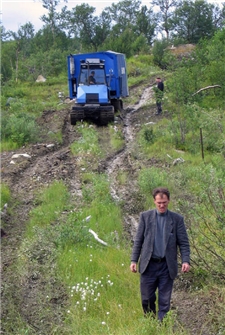 RIGGER SEG TIL: Vasily Litvinenko var sjefkoordinator for boreprosjektet i Russland.Sjefredaktør, forsker og forfatter Victor Melezhik ved Norges geologiske undersøkelse (NGU) kan puste ut over mer enn 2000 tettskrevne og rikt illustrerte sider, utgitt på prestisjeforlaget Springer. Kolleger er imponert, de mener bokverket vil bli stående lenge som en definert standard for kunnskapen om de tidlige miljøforandringene på Jorden.
Utgangspunktet er deler av det fennoskandiske skjold, grunnfjellet nordvest i Russland, og et krevende feltarbeid over fem måneder på Kolahalvøya og i Karelen i 2007. Her ble det boret en serie med kjerneprøver, i alt 3,6 kilometer, som favnet den ufattelig lange tidsperioden fra 2,5 til 2 milliarder år. Arbeidet har relevans for norsk geologi; lignende bergarter finner vi også i Finnmark.
Dramatiske endringer
- Av og til har det skjedd fundamentale endringer på Jorden. En av de tidligste, og kanskje største, hendelsene var da Jorden opplevde en betydelig økning av oksygen i atmosfæren. Økningen skjedde gjennom en serie episoder over flere hundre millioner år og forandret ugjenkallelig vår planet. Vi har hele tiden ønsket å forstå hvorfor og hvordan dette skjedde, og hvilke konsekvenser det fikk. De globale omveltningene som førte fram til vår moderne jord med liv og atmosfære, er blant de mest utfordrende problemene vi har i geovitenskapen, fastslår Victor Melezhik.
I denne perioden pågikk det nemlig dramatiske miljøforandringer på Jorden; den første globale istiden, turbulens i karbonsyklusen, kraftig økning av svovel og salter i sjøvann, første dokumenterte sedimentære bergart dannet ved utfelling av fosfater, store ansamlinger av organisk materiale og dannelsen av forlengst forsteinet olje.
Arkiv i grunnfjellet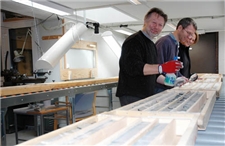 KJERNER: Borekjernene er gransket ved NGUs laboratorium, her av Victor Melezhik, Aivo Lepland og Melanie Mesli.Forskerne leser Jordens urtidsarkiv i borkjernene som er hentet opp fra grunnfjellet. De 3,6 kilometerne med kjerner utgjør det beste arkivmaterialet som noen gang er belyst fra denne tidsperioden. Kjernene er grundig undersøkt, karakterisert og beskrevet ved NGUs laboratorium i Trondheim. Alt materiale er lagt inn i en omfattende database på nett, og koblet opp mot bilder, lokaliteter, geokjemiske datasett, kart og figurer.
Slik er det mulig å gjennomføre rekonstruksjoner av Jordens miljø i urtiden. Resultatet er trebindsverket Reading the Archive of Earth's Oxygenation, hvor fire NGU-ere, i tillegg til Melezhik, er representert som forfattere; forskerne Aivo Lepland (medredaktør), Alenka Crne, Melanie Mesli og Karl Fabian.
- Jeg håper at de tre bøkene kan fungere som en informasjonskilde og guide til prekambrium og Jordens utvikling, både for forskere og for geologistudenter, sier forsker Victor Melezhik.
PS: Det omfattende arbeidet har pågått i regi av det internasjonale prosjektet Fennoscandian Arctic Russia – Drilling Early Earth Project (FAR DEEP) og er i stor grad finansiert av International Continental Scientific Drilling Programme (ICDP).