Heidra for vitskapleg bokverk
Seniorforskar Victor Melezhik vart heidra med pris for Årets vitskaplege publikasjon under ein julelunsj ved Noregs geologiske undersøking (NGU) nyleg. Eit omfattande trebindsverk om Jorda i urtida kunne ingen toppe.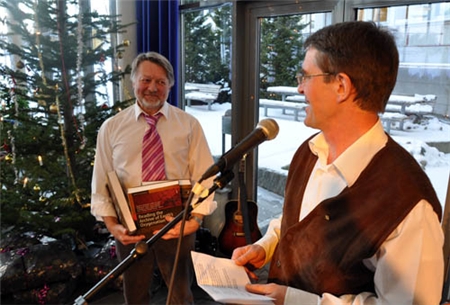 PRIS: Victor Melezhik (t.v.) tek i mot heideren frå avdelingsdirekør Øystein Nordgulen ved NGU.
Melezhik og hans kollegar har fortalt om dei dramatiske endringane i Jordans miljø for 2,5 til 2 milliardar år sidan i eit rikt illustrert storverk på tre bind. Fem års intensivt arbeid oppsummerar kunnskap frå meir enn 50 års internasjonalt feltarbeid, knadd gjennom diskusjonar og kompromissar med toppforskarar frå 12 land.
Eit knallhardt vitskapeleg puslespill gjennom lange dagar og seine kveldar har enda opp i trebindsverket Reading the Archive of Earth's Oxygenation.
Dei meir enn 2000 sidene er gjeve ut på prestisjeforlaget Springer. Kollegar er imponert, dei meiner bokverket vil bli ståande lenge som en definert standard for kunnskapen om dei tidlege miljøforandringane på Jorda.
- Eg voner at dei tre bøkene kan fungere som ei kjelde til informasjon og ein guide til prekambrium og Jorda si utvikling, både for forskarar og for geologistudentar, seier Melezhik.