Gull til geokjemiker
Seniorforsker Clemens Reimann ved Norges geologiske undersøkelse (NGU) er hedret med gullmedalje av den internasjonale organisasjonen for anvendte geokjemikere.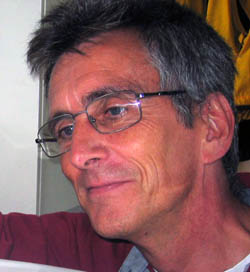 PRISBELØNT: Clemens Reimann.Reimann mottar Gold Medal 2013 som en anerkjennelse for fremragende arbeid innenfor anvendt geokjemi i mer enn 30 år.
Reimann har arbeidet med både forskning og forvaltning, og har oppnådd en betydelig internasjonal oppmerksomhet innenfor fagfeltene miljøgeokjemi, geostatistikk og geokjemisk kartlegging.
Clemens Reimann har blant annet utgitt en omfattende bok om kvaliteten på drikkevannet i europeisk flaskevann. I desember lanseres et nytt, stort arbeid fra Reimanns' hånd: en bok om den geokjemiske beskaffenheten av landbruksjord i 33 europeiske land.
Den høyeste utmerkelsen fra The Association of Applied Geochemists (AAG), Gold Medal, blir utdelt på New Zealand 19. november.