Vi flyr som aldri før
Aldri før har NGU hatt så stor aktivitet i luften så sent på året. I midten av november driver mannskap på to helikoptre og tre fly fremdeles med innsamling av geofysiske data.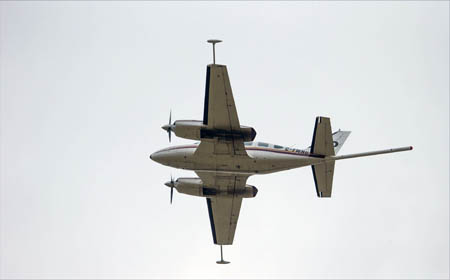 FLY: Et av de innleide flyene har kartlagt deler av Nord-Trøndelag i sommer. Her er det avbildet over Verdal. Foto: Leif Arne Holme
Tweet
To fly fra det canadiske selskapet Novatem er nå stasjonert i Brønnøysund, mens et annet innleid fly fra canadiske EON Geosciences flyr i bergensområdet. De to helikoptrene fra Heliscan opererer fra henholdsvis Notodden i Buskerud og i Sirdal i Vest-Agder.
Kartlegger undergrunnen
Men hva er det egentlig de arbeider med?
- Målet med både fly- og helikoptermålingene er generell geologisk kartlegging. Måleapparatene gir oss et godt bilde av undergrunnen og registrerer blant annet naturlig radioaktivitet. Apparatene kan også fange opp eventuelle rester av radioaktivt cesiumnedfall etter Tsjernobyl-ulykken i 1986, forteller prosjektlederne Jan Steinar Rønning og Odleiv Olesen ved Norges geologiske undersøkelse (NGU).
Mange bruksområder
Måledata brukes både som bakgrunnsmateriale i forbindelse med leting etter olje og gass utenfor kysten, ved berggrunnskartlegging og kartlegging av mineralforekomster på land, samt ved utbygging av boliger, næringsbygg og veier.
Resultatene kan også være verdifulle ved kartlegging av radonfare, og av svakhetssoner som kan være problematiske ved tunnelbygging i fjell. Også Mattilsynet kan altså dra nytte av data; kartleggingen omfatter også nedfall fra Tsjernobylulykken, som fortsatt kan gi forhøyet radioaktivitet i beitende dyr.
Flyr i lav høyde
Mange rundt omkring i landet har sett NGUs innleide fly og helikoptre i løpet av sommeren og høsten. Målingene skjer i lav høyde. Instrumentene i flyene er fastmontert, mens helikopterene opererer med en fritthengende målesonde og fastmontert utsyr under buken. I alt er det fløyet 150.0000 kilometer med fly og 50.000 kilometer med helikopter denne sesongen.
Arbeidet skjer i hovedsak i Crustal Onshore-Offshore Project (COOP), og i de to regjeringsinitierte programmene Mineralressurser i Nord-Norge (MINN) og Mineralressurser i Sør-Norge (MINS).
Det er kyst- og fjellområdene fra Sørlandet til Helgeland som kartlegges i det oljeindustrifinansierte COOP-prosjektet. Her er oljeselskapene og Oljedirektoratet spesielt interessert i dypforvitring, varmeproduksjon i gneisunderlaget og andre land-sokkel-forbindelser.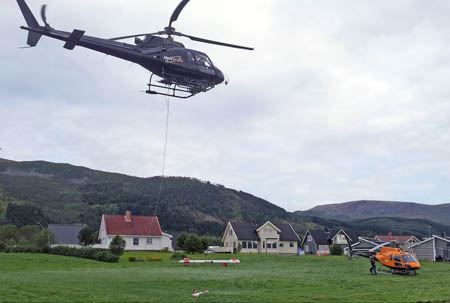 HELIKOPTER: To helikopter med mannskap gjør seg klar til målinger over Sortland tidligere i sommer. Foto: Georgios Tassis