Heidra med pris for beste publikasjon
Forskar Aivo Lepland er heidra med prisen for Årets publikasjon ved NGU. Artikkelen tar for seg to milliardar år gamle fosformineral i urgamle fosforrike bergartar.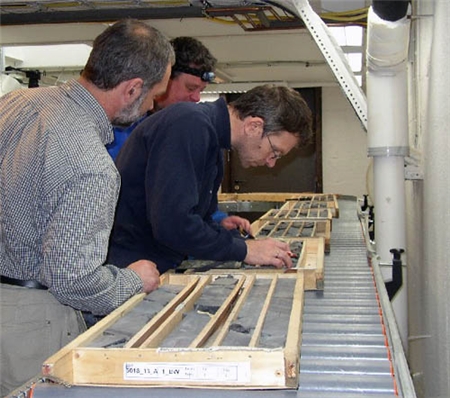 HEIDRA: Aivo Lepland (i midten) granskar borekjerner frå Russland ved NGU.
- NGU sin faglege profil er har lenge markert seg med å vere på eit internasjonalt høgt nivå, fortel avdelingsdirektør Øystein Nordgulen, som har leda juryens arbeid.
- I tillegg til å fullføre store kartleggingsprogram på land, frå lufta og på sjøen, har vi i 2013 publisert mange svært interessante artiklar. Det viser til fulle at NGU har ein brei geofagleg aktivitet med stort trykk på både kartlegging og forsking, seiar han.
15 forfattarar
Nordgulen peikar på at det har komme mange framifrå bidrag, og spesielt gledeleg er det at fleire av forskarane på NGU er godt synlege på internasjonale konferansar og gjennom viktig redaktørarbeid for bøker og tidsskrift.
Prisen for årets publikasjon i 2013 går til ein artikkel som set søkelyset på fundamentale prosessar på jorda. Aivo Lepland er den første på ei liste med i alt 15 forfattarar frå institusjonar i fleire land.
Artikkelen tar for seg to milliardar år gamle fosformineral i urgamle fosforrike bergartar - fosforittar - frå Karelen i nordvest-Russland. Fosforittane finst i sedimentære avleiringar saman med svartskifer og kalkstein. I borekjerner frå desse avleiringane har forfattarane funne fossiliserte bakteriematter med spor etter fosfatomdanna mikroorganismer danna ved utfelling av fosformineral på havbotnen.
Dette skjedde i eit tidsrom etter at jorda hadde fått eit gradvis aukande innhald av oksygen fram til for cirka 2,3 milliardar år sidan.
Alt liv krev fosfor
- Artikkelen påviser at svovelbakteriar, som også finst i dag, har hatt ein avgjerande rolle i utfelling av fosfor gjennom dei siste to milliardar år av jordas historie, fortel Nordgulen.
Alle former for liv krev fosfor. Fosfor er eit viktig næringsmiddel for plantar og blir derfor brukt i framstilling av kunstgjødsel. Det inngår i fleire mineral; det mest vanlege er apatitt – eit kalsiumfosfat som bygger opp skjelett og tanngard på menneske og dyr. Det blir også brukt i industrien, til dømes i produksjon av stål og framstilling av plasmaskjermar.
Referanse:
Potential influence of sulphur bacteria on Palaeoproterozoic phosphogenesis. Aivo Lepland, Lauri Joosu, Kalle Kirsimäe, Anthony R. Prave, Alexander E. Romashkin, Alenka E. Crne, Adam P. Martin, Anthony E. Fallick, Peeter Somelar, Kärt Üpraus, Kaarel Mänd, Nick M.W. Roberts, Mark A. van Zuilen, Richard Wirth & Anja Schreiber.
Nature Geoscience 2013, DOI: 10.1038/NGEO2005