Jordas eldste fosforitter koblet til nye habitater
Forskere fra 15 land har i flere år arbeidet med spørsmålet om hva som egentlig skjedde da Jorda gradvis fikk et økende innhold av oksygen. Forskningsresultatene viser et tett samspill mellom geologisk og biologisk utvikling.
Kilometerlange kjerner fra Jordas urtid, hentet fra grunnfjellet i Nordvest-Russland, bidrar til stadig nye brikker i puslespillet om hva som egentlig skjedde i den kanskje mest dramatiske perioden i Jordas historie.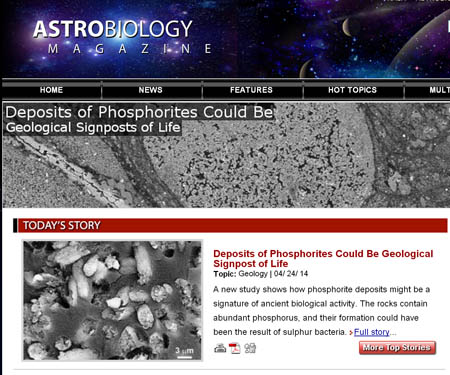 FORSKNING: Klikk på bildet for å lese artikkelen i AstroBiology Magazine.
Ferske forskningsresultater, som er publisert i Nature Geoscience og nylig formidlet i NASA AstroBiology Magazine, viser at svovelbakterier spilte en avgjørende rolle i dannelsen av Jordas eldste fosforitter.
Svovelbakterier
- I forbindelse med økningen av oksygeninnholdet i Jordas atmosfære og sjøvann, ble det etablert gunstige vilkår og habitater for blomstring av svovelbakterier. Gjennom sitt stoffskifte samlet svovelbakteriene opp fosfor og sørget for avsetting av fosforitter, forteller forsker Aivo Lepland ved Norges geologiske undersøkelse (NGU).
Han understreker at fosforitter i så gamle bergarter lenge har vært kjent, men at opprinnelsen og selve dannelsesmekanismen hittil har vært et lite mysterium.
- Fosforitter er en stor økonomisk ressurs. Flere mener vi kan oppleve en global knapphet på dette livsviktige råstoffet. Derfor er det viktig å ha forståelse for hvordan de dannes og hvor de kan finnes, påpeker Lepland.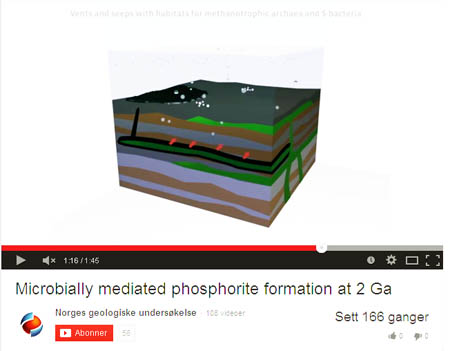 VIDEO: Klik på bildet for å se animasjonen som beskriver de geologiske prosessene som dannet en økologisk nisje for verdens eldste fosforitter for to milliarder år siden.

Borkjernelager
Så langt har vitenskapsfolk fra 15 land levert et tjuetalls publikasjoner og tre bøker i kjølvannet av et omfattende boreprogram på Kola-halvøya og i Karelen i 2007. Arbeidet fant sted i det internasjonale prosjektet Fennoscandian Arctic Russia – Drilling Early Earth Project (FAR DEEP), som i stor grad ble finansiert av International Continental Scientific Drilling Programme (ICDP).
Selve boringene resulterte i 3,6 kilometer med kjerneprøver fra fjell som er mellom 2,5 og 2 milliarder år gamle. Prøvene ligger nå lagret og lett tilgjengelig ved NGUs borkjernelager på Løkken i Sør-Trøndelag.
I norsk geologi
I Jordas urtid for 2,5 til 2 milliarder år siden pågikk det dramatiske miljøforandringer mens oksygeninnholdet økte. Her skjedde den første globale istiden, en kraftig økning av svovel og salter i sjøvann, dannelse av fosforrike bergarter, store ansamlinger av organisk materiale og dannelse av forlengst forsteinet olje.
- Ny kunnskap om disse globale prosessene kan også bidra til å forstå norsk geologi bedre, sier Aivo Lepland og minner om at de samme bergartene fra Nordvest-Russland også finnes i Finnmark.
Forskere skal fortsette å bruke steinarkivet på Løkken til å granske konsekvensene av det økte oksygeninnholdet på Jorda. Nå planlegger de et nytt arbeidsmøte med arbeid på kjerneprøvene i løpet av høsten 2014.
Fremragende forskning
Samtidig blir det startet et PhD-prosjekt ved UiT Norges arktiske universitet i Tromsø for å styrke detektivarbeidet.
- En av oppgavene til den nye doktorgradstudenten er å se nærmere på svovelsyklusen og på dannelsen av de livgivende fosforittene for to milliarder år siden, forteller Aivo Lepland.
Lepland er en av bidragsyterne i dette Centre for Arctic gas hydrate, Climate and Environment (CAGE), et senter for fremragende forskning ved Tromsø-universitetet, hvor doktorgradstudenten skal ha sitt virke.