Sammen om geologisk arv og geoturisme
Hva er den geologiske arven vår? Og hvordan skal vi få folk som er interessert i natur til å få opp øynene for den historien geologien forteller?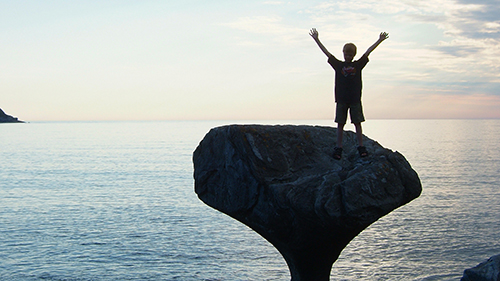 Disse spørsmålene ble tatt opp på NGU nylig. Eksperter fra hele landet var samlet for å diskutere to viktige områder knyttet til geologi: Geologisk arv og geoturisme.
Geologisk arv og geologisk mangfold er to begreper som er knyttet tett sammen. I Norge finnes det allerede flere prosjekter som viser fram den geologiske arven på ulike måter. Likevel er det ingen enhetlig definisjon som forklarer hva som er viktig å verne for framtida.
Hva skal vernes?
- Vi trenger klassifisering og kriterier for viktighetsvurdering av geologien for å vite hva som kan knyttes til geologisk mangfold og i neste omgang forvaltning av geologisk arv, sier Rolv Dahl i Laget for byggeråstoffer ved NGU.
NGU har tatt initiativ til å etablere Norsk nasjonal komité for geoarv og geoparker. Nylig arrangerte komiteen arbeidsmøte ved NGU. Der ble det blant annet diskutert hva som er viktig å ta vare på for å sikre et geologisk mangfold i framtida.
Geoparker og turisme
Geoparker og geoturisme var det andre hovedtemaet på møtet.
- Geoparkene driver formidling av geologisk mangfold. På arbeidsmøtet skal vi ta en nærmere kikk på eksisterende og potensielle geoparker. Den nasjonale komiteen for geoarv og geoparker skal blant annet støtte og kvalitetssikre søknader til det europeiske geoparknettverket, og ikke minst etablere et nasjonalt geoparknettverk, forklarer Dahl.
- Mye geologi er lett tilgjengelig for turister. Likevel har vi en jobb å gjøre når det gjelder å få de naturinteresserte turistene mer opptatt av historien bak naturen. Hvorfor er det tinder noen steder og vidder andre steder? Hvordan har fjordene blitt til? Svarene på disse spørsmålene er med på å gi turistene en merverdi av opplevelsene i naturen, sier Dahl.