Vellykket undersøkelse i Andfjorden
NGU brukte mindre enn to døgn på de seismiske undersøkelsene i Andfjorden. Alt tyder på at arbeidet har vært vellykket.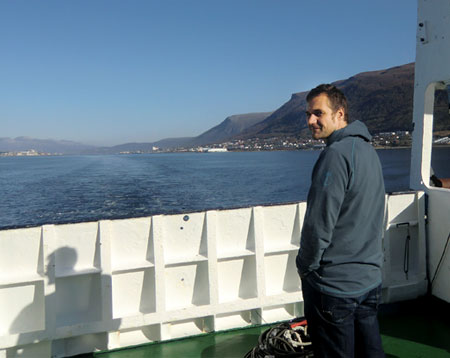 Prosjektleder Macro Brønner ombord på forskningsskipet «Håkon Mosby», hvor de seismiske undersøkelsene ble gjennomført fra.
- Vi er godt fornøyd med datainnsamlingen som ble gjort. Målet var å bli ferdig så fort som mulig, for ikke å sjenere andre unødig. Det synes jeg vi klarte, vi var godt innenfor oppsatt tidsramme, sier prosjektleder Marco Brönner i NGU.
Datainnsamlingen startet fredag 19. september kl. 20.00. Søndag formiddag kl. 11.00 var arbeidet avsluttet.
Klikk her og les pressemelding fra NGU med oppsummering av arbeidet som ble gjennomført.
Dypforvitring
De seismiske undersøkelsene på Andøya, ble gjennomført for å få mer kunnskap om dypforvitring i berggrunnen. Området er det eneste stedet på fastlands-Norge med sedimentære bergarter fra jordas mellomtid og hvor dypforvitret grunnfjell kan være bevart under dem.
Det lokale fiskarlaget og miljøvernorganisasjoner har ytret skepsis til arbeidet, men både Kystverket og Oljedirektoratet har gitt tillatelse til undersøkelsene.
God dialog
Da arbeidet startet fredag kveld, var to fiskebåter ute i farvannet. Kystvakta var til stede, og holdt kontakt med både fiskere og forskingsfartøy.
- Vi hadde god dialog med fiskebåtene, og hadde ellers ingen problemer underveis. Vi har prøvd å være fleksibel, og endret på planene der det var fiskere i aktivitet, sier Brönner.
Lav styrke
Det ble benyttet både seismikk og gravimetri (tyngdekraftmåling) i Andfjorden, for å få tilstrekkelige geofysiske data. De seismiske undersøkelsene ble gjennomført med lav styrke.
Datainnsamlingen betegnes som vellykket. Data fra toktet skal etter planen foreligge ferdig tolket ved utgangen av 2015, og vil da være offentlig tilgjengelig.