Ny viten om is i Arktis styrker klimamodeller
For mellom fire og fem millioner år siden lå sjøisgrensen i Arktis mye lengre nord enn i dag. En maksimal sjøisutbredelse, som den vi ser i dag, oppsto første gang for rundt 2,6 millioner år siden. Nå kan den nye kunnskapen brukes til å forbedre framtidas klimamodeller.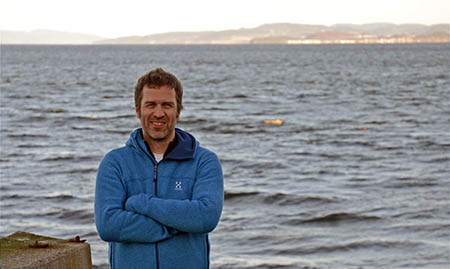 ISFRITT: Forsker Jochen Knies ved NGU og CAGE. Foto: Gudmund Løvø
- I 2,6 millioner år har vi hatt sjøis - som den vi ser i dag - i Arktis. I vår levetid kan vi oppleve at den blir borte. Den nye rapporten fra FNs klimapanel viser at den arktiske isutbredelsen har hatt en rask nedgang siden 1970-tallet, med 2012 som det året da utbredelsen var på sitt minste, forteller forsker Jochen Knies ved Norges geologiske undersøkelse (NGU).
I et internasjonalt samarbeidsprosjekt har Knies gransket framveksten av grensene for havis i Polhavet for 5,3 til 2,6 millioner år siden.
Plantefossiler
Dette var siste gang Jorda opplevde en lang periode med et gjennomsnittlig varmt klima, før kalde istider tok til å veksle med milde mellomistider.
- Ved å granske molekyler fra spesielle plantefossiler, som er bevart i sedimentene, fant vi ut at store havområder var fri for havis fram til for fire millioner år siden, forteller Jochen Knies.
Senere utvidet havisen seg gradvis, og for 2,6 millioner år siden hadde den for første gang nådd det vi dag ser som grensen for vinterisen, forteller Jochen Knies, som også er tilknyttet senter for fremragende forskning CAGE ved UiT Norges arktiske universitet.
UTBREDELSE: Slik er sjøisutbredelsen i Arktis i dag, med linjer som i tillegg markerer utbredelsen i 2007 og gjennomsnittlig september-utbredelse fra 1979 til 2000. Ref: www.arctic.noaa.gov/report12
Klimaendringer
Forskningen har stor internasjonal interesse fordi dagens globale oppvarming er sterkt knyttet til et krympende isdekke i Polhavet. Ved slutten av vårt århundre vil Polhavet etter alt å dømme være helt fritt for havis, spesielt i sommermånedene.
- Våre resultater kan brukes som et verktøy i klimamodellering for å vise hva vi kan forvente av klimaet ved neste hundreårsskifte. Jeg er overbevist om at dette blir ett av mange verktøy som også FNs klimapanel vil ta i bruk. Det har hele tiden vært stor usikkerhet knyttet til isutbredelsen i Arktis. Gjennom dette arbeidet viser vi hvordan havisen i Polhavet utviklet seg før alle de store isdekkene på den nordlige halvkule var etablert, forklarer Knies.
Havbunnsprøver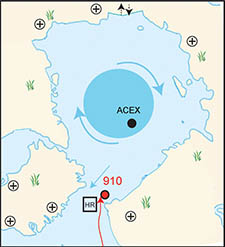 BRØNN: Isutbredelsen i Arktis for fem millioner år siden. Det røde punktet markerer lokaliteten av IODP-brønn 910C.Det er en dyp brønn nordvest for Spitsbergen som er utgangspunktet for forskningen. Brønnen er boret som et ledd i det internasjonale boreprogrammet IODP for å aldersbestemme avsetningene i området. I de lagvise sedimentene er det også lagret såkalte biomarkører, plantefossiler av samme type som forskerne finner i de samme farvannene i dag.
- De lagvise avsetningene gjør at vi blant annet kan "lese" når sjøisen nådde fram til akkurat dette punktet, forteller Knies.
Forskerne tror at veksten i havis fram til for 2,6 millioner år siden, blant annet skyldtes den omfattende landhevingen i denne perioden.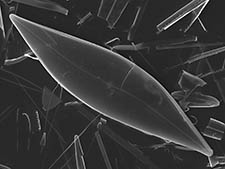 BIOMARKØR: Her er et mikroskopbilde av sjøis-diatomer (Pleurosigma stuxbergii), som produser den organiske biomarkøren som forskerne gransker i arbeidet med å beskrive havisutbredelsen i Arktis. Foto: Thomas A. Brown, Simon T. Belt- Endret topografi i flere arktiske regioner i Arktis, blant annet på Svalbard og Grønland, med oppbygging av is på land, stimulerte utbredelsen av breisen, sier Knies.
- I tillegg sørget åpningen av Beringstredet og lukkingen av Panamakanalen i samme tidsvindu for en kraftig økning i tilførselen av ferskvann, noe som forsterket isdannelsen i Polhavet, opplyser Jochen Knies.
For cirka 2,6 millioner år siden var alle de store isdekkene på den nordlige halvkule på plass.
Internasjonalt arbeid
Arbeidet har skjedd i et samarbeid mellom forskere ved NGU, UiT Norges arktiske universitet, University of Plymouth, Universitat Autònoma de Barcelona, Stellenbosch University i Sør-Afrika og Institució Catalana de Recerca i Estudis Avançats i Barcelona.
Resultatene fra den nye studien er publisert i Nature Communications.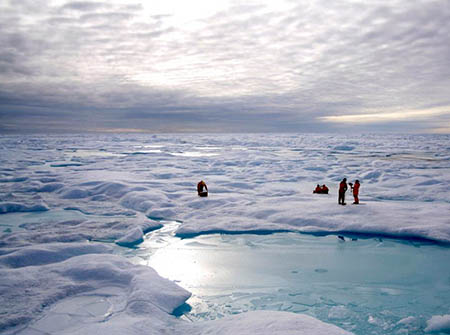 I FELT: Eksotisk feltarbeid på sjøisen i Arktis. Foto: Thomas A. Brown, Simon T. Belt
Referanse:
Nature Communications: The emergence of modern sea ice cover in the Arctic Ocean. Jochen Knies, Patricia Cabedo-Sanz, Simon T. Belt, Soma Baranwal, Susanne Fietz, Antoni Rosell-Melé.