Avdekket klebersteinbrudd for kirker
Geologer har avdekket restene av to store klebersteinbrudd i Sunnhordland. Steinbruddene stammer fra middelalderen og er trolig benyttet ved byggingen av flere kirker i Bergen.
Deler av bruddveggen viser spor etter huggete kanaler for fremstilling av kvaderblokker ved bruddet på Lykling i Bømlo.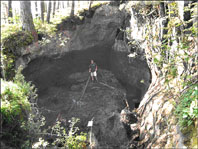 Bruddet på Russøy etter tømmingen. Her ble det blant annet funnet trevirke brukt til å trekke opp steinen på slede.
På Lykling i Bømlo kommune viser nye undersøkelser at det er tatt ut til dels store mengder kleberstein i middelalderen. Også øya Russøy utenfor Reksteren i Tysnes kommune sør for Bergen, kan ha hatt storindustri av kleberstein.
- Ja, det er stor sannsynlighet for at steinen fra Lykling ble brukt til de første byggetrinnene for så å si alle kirkebygg i Bergen mellom 1120 og 1150, sier forsker Tom Heldal ved Norges geologiske undersøkelse (NGU). - I tillegg er denne steinen trolig brukt til å bygge gamle Moster kirke i Bømlo, sier han.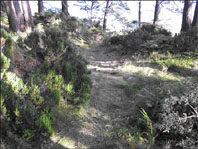 Denne stien har trolig fungert som en transportvei mellom klebersteinbruddet og sjøen på øya Russøy i Tysnes.
- Senere i byggeperioden var det andre steintyper som overtok i Bergen, kanskje også steinen fra Reksteren i Tysnes. Undersøkelsene i sommer viser at det også her er tatt ut store mengder kleberstein, kanskje så mye som 1000 kubikkmeter, forteller Heldal.
Kirker og klostre
På Lykling i Bømlo har forskerne registrert en sammenhengende bruddflate på 90 meter med en høyde på mellom fire og seks meter. Fra et nes ikke langt fra steinbruddet var det fine havneforhold med god dybde. Dermed var det en overkommelig oppgave å frakte de store uthogde steinblokkene - kvaderblokkene - fra bruddet og over på båter for å transportere den verdifulle lasten den nesten ti mil lange sjøstrekningen til Bergen.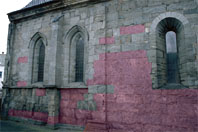 Stein som trolig kommer fra Bømlo (merket rosa) i Mariakirken. Steinen er gjenbrukt på 1200-tallet under vinduene t.v.
Her ble altså både Korskirken, Mariakirken, Domkirken og etter alt å dømme også Nonneseter kloster, påbegynt med kleberstein fra Lykling. - Både steinens kvalitet og struktur tyder på det. Det er godt håp om at mer detaljerte analyser av klebersteinen kan gi et endelig svar, understreker Heldal.
Tømt for vann
Undersøkelser fra i sommer peker også i retning av at øya Russøy utenfor Reksteren i Tysnes kommune, har hatt et digert klebersteinbrudd i middelalderen. Her ble det i sommer pumpet ut nesten 700.000 liter vann for at geologer kunne komme til. I steinbruddet ble det funnet treopptrekk, som etter alt å dømme ble brukt til å trekke steinen opp på slede før den senere ble dratt 30-40 meter ned til sjøen.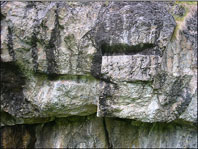 Bildet viser typiske kanaler for frigjøring av kvaderblokker fra klebersteinbruddet på Lykling i Bømlo.
Store steinbygninger ble først og fremt påbegynt etter kristningen av Norge for 1000 år siden. Utenlandsk arbeidskraft, blant annet fra Sverige og England, kom til Norge for både å hogge ut og mure i stein. De første kom til Bergen og behovet for myk stein var stort.
Under arbeidet med praktboken "Steinbyen Bergen" - som ble utgitt for to år siden - kartla Tom Heldal ved NGU og Øystein J. Jansen fra Bergen Museum, rundt 50 klebersteinsbrudd på denne delen av Vestlandet.
Kontaktperson ved NGU:
Tom Heldal, tlf.: 73 90 42 05
tom.heldal@ngu.no